Pureheart India

Tags:

benefits of cashew, Best Cashews Recipes, Cashew, Cashew butter, Cashew gravy, dry fruits, easy to make, Healthy, healthy recipe, healthy snacks, homemade food, Indian Recipe, Natural Cashew Nutpaste, Natural Cashews, nutmix, Nutpaste, nutreats, nutrients, nuts, nutspreads, Pureheart, Roasted Cashews, tasty recipes with nuts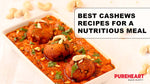 Think of your favourite nuts and cashews will be the first name that will pop up in your mind. The combination of crunch, creaminess, and deliciousness, cashew is a wholesome tiny treat. Besides serving raw or roasted, these can be used to prepare various recipes.  Cashew nuts are particularly loaded with nutrients and have multiple health benefits. If not as salted, roasted or caramel, you can add cashew paste to your food to have a unique taste and obtain its nutritional factors.  If you plan to add cashew to your dishes, we have got you covered. From creamy curries to...
---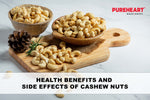 Dry Fruits - are a good source of vitamin, protein, calcium, potassium, copper, zinc, and other essential minerals. Dry fruits are quite beneficial for your body be it almonds, raisins, cashew, or walnuts. Every single dry fruit offers you some kind of benefit. But here we will talk about Cashew Nuts particularly. Cashew nuts can never go unnoticed when you talk about dry fruits, right. Almost everyone's favourite nut, cashew nuts are the most delicious of all the nuts. With their sweet and buttery taste, they become the favourite snack of kids and adults.  But are they really good to...
---
Pureheart India

Tags:

carbohydrates, Cashew, Cashew butter, fruit n nut, health benefits, Healthy, healthy snacks, Interesting facts about cashews, kaju, minerals, Natural Cashew Nutpaste, Nutpaste, nutritional value, proteins, pureheart, reducing LDL cholesterol, Roasted Cashews, Surprising facts about cashew nuts, Vegan, zinc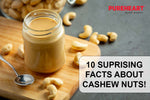 Cashews, shaped like a boxing glove, are one of the most famous nuts in the world. The nut spread its roots in Goa, India, between 1560 to 1565; cashewnut is enjoyed by everyone in various forms. Some people like it in raw form, others like it in roasted cashew nuts, while some like them in nutspread or butter form. Cashews are nuts that can be consumed in numerous ways. You can use them as toppings for desserts or use cashew paste to make a dessert. The options can go on and on.  Cashews not only taste good but have several...
Recent Articles
Categories