Pureheart India

Tags:

almond, almonds, badam, Cashew, dry fruits, Dry fruits for kids, dry fruits online, easy to make, fasting, fruit n nut, hazelnut, Healthy, healthy snacks, homemade food, kaju, natural almond, Nut Mix Recipes, nutmix, nutreats, nutrients, nuts, pista, protein, protein diet, Pureheart, Raisins, roasted almonds, Roasted Cashews, salted almonds, Salted Cashews, salted nuts, tasty recipes with nuts, Trail Mix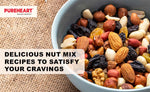 Are you a nut snack lover? Do you love eating trail mixes? If you are, you'll thank us as we're going to confabulate with seven delicious nut mix recipes in this blog. Being a snack lover, you would know that trail mix isn't just limited to old raisins and peanuts. In fact, there are a plethora of nut mix recipes that will quench your snack craving. One thing is clear, nut mix snacks are not only delicious but also healthy for the body. Everyone loves trail nut mix because it is lightweight, portable, and full of energy-dense ingredients, which include...
---
Pureheart India

Tags:

almond, Benefits of almonds, benefits of cashew, Carbohydrates, Cashew, dry fruits online, Fats, health benefits of almonds, health benefits of cashews, Keeping the body hydrated, minerals and vitamins, natural almond, organic food, proteins, Pureheart, Resources for Athletes, Sports Nutrition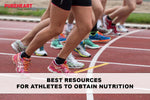 No one is born an athlete. It takes a lot of hard work, dedication, an active lifestyle, and passion for becoming a sportsman or athlete. But most importantly, it requires "sports nutrition" to get that athlete's personality and look. Without a speck of doubt, good training and a sensible diet are what makes a person an elite athlete. But what are the best resources that can help an athlete procure nutrition? Whether you're venturing into the sports field or already an athlete, this blog will be a helpful guide for you. Here you will learn about the best resources for...
Recent Articles
Categories