Pureheart India

Tags:

almond, almonds, badam, Cashew, dry fruits, Dry fruits for kids, dry fruits online, easy to make, fasting, fruit n nut, hazelnut, Healthy, healthy snacks, homemade food, kaju, natural almond, Nut Mix Recipes, nutmix, nutreats, nutrients, nuts, pista, protein, protein diet, Pureheart, Raisins, roasted almonds, Roasted Cashews, salted almonds, Salted Cashews, salted nuts, tasty recipes with nuts, Trail Mix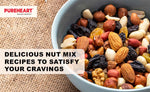 Are you a nut snack lover? Do you love eating trail mixes? If you are, you'll thank us as we're going to confabulate with seven delicious nut mix recipes in this blog. Being a snack lover, you would know that trail mix isn't just limited to old raisins and peanuts. In fact, there are a plethora of nut mix recipes that will quench your snack craving. One thing is clear, nut mix snacks are not only delicious but also healthy for the body. Everyone loves trail nut mix because it is lightweight, portable, and full of energy-dense ingredients, which include...
---
Pureheart India

Tags:

almond, almonds, badam, Benefirs of Honey Almond Butter, Benefits of almonds, dry fruits, easy to make, Healthy, healthy recipe, healthy snacks, homemade food, Honey, Honey nut spread recipe, Honey spread, natural almond, nuts, nutspreads, pureheart, roasted almonds, salted almonds, salted nuts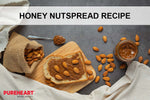 Foodie much? If you want to try something different from the plain old peanut butter, the honey nut spread recipe is just for you. Not only does it taste good, but it is also quite healthy. The main ingredients of this recipe are honey and almond which individually are very beneficial for human health. Further, when put together in this recipe, the butter evidently becomes healthy. Honey and almonds together give the butter or nut spread a sweet and slightly salted taste. Drooling over this recipe? Well, then what's the wait? Let's get straight to the recipe for this mouthwatering...
Recent Articles
Categories