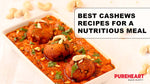 Think of your favourite nuts and cashews will be the first name that will pop up in your mind. The combination of crunch, creaminess, and deliciousness, cashew is a wholesome tiny treat. Besides serving raw or roasted, these can be used to prepare various recipes. 
Cashew nuts are particularly loaded with nutrients and have multiple health benefits. If not as salted, roasted or caramel, you can add cashew paste to your food to have a unique taste and obtain its nutritional factors. 
If you plan to add cashew to your dishes, we have got you covered. From creamy curries to sweet desserts, we bring the best cashew nut recipes for you. 
Kaju Katli: The delicious sweet
The famous Indian sweet, Kaju katli is a delicious, smooth and healthy sweet prepared with fewer ingredients. The sweet, prepared with the cashew paste, is simple and easy to make. It is just a 15-20 minutes process, however, it takes hours to set. 
Being the most delicious and famous Indian sweet, Kaju katli makes all the celebrations and occasions more special with its presence. Favourite among all age groups, it is loved for its soft, smooth, melt-in-the-mouth texture. 
Kaju katli is also a perfect gifting option for your loved ones if you want to gift something home-cooked. Its creamy, velvety and buttery texture will make your guests and friends addicted to this. Do not forget to decorate Kaju katli with silver work to make it look more tempting. 
Shahi Makhani Paneer: The tempting main-course
Shahi makhani paneer is a creamy cashew butter recipe which is a famous main-course dish. The super delicious paneer dish is loved by most people and is the predominant dish on Indian restaurant menus. 
If you want a restaurant-like shahi makhani paneer, prepare it with fresh tomatoes, a handful of onions, cashew paste and spices. It will become your all-time favourite dish as its cooking process is super quick and tastes amazingly delicious. 
Cashew paste gives it a thick, creamy and buttery gravy. This is a real treat when served with Butter Naan and Lacha onion. This is one of the cashew nut recipes that will fill your mouth with water. 
Cashew Chikki: More than a dish
Another dish on the list of cashew nut recipes is cashew chikki. Prepared with rich cashew nuts, it carries lots of nutrients. Cashew chikki is all about cashew nuts and sugar syrup. It is an all-time favourite sweet dish that can satisfy your toothsome if prepared in the right way. 
To prepare crisp, rich, and delicious chikki at home, you can add a mix of different nuts to your desired proposition. Homemade chikki is really a delightful and healthy sweet that lasts for a few days. 
Cashew chikki carries lots of nutrients. If prepared with the right proportion, it will definitely satisfy your sweet craving. Remember to keep it in an air-tight container to retain its freshness. 
Malai Kofta: Mouth-watering dish
When you think of the cashew butter recipe, Malai Kofta is the first dish that comes to mind. The dish is a mixture of koftas (balls) and creamy curry. The koftas or balls are prepared with the potatoes & paneer or with veggies like bottle gourd, cabbage, etc. 
To make the curry more delicious, rich, and healthy, cashew paste has been added to the dish. Malai kofta is overall a healthy dish, as it is loaded with vegetables and cashews. 
The gravy is super favourable and well balanced with natural flavours from onion, tomatoes, and cashews. 
Butter Chicken Masala: A treat for non-vegetarians
So all non-vegetarians here is your treat. Butter chicken masala has never been easy and delicious without cashew paste and butter. This cashew butter recipe is easy to prepare and loaded with flavours. 
To make butter chicken masala, you need grilled chicken cooked in tomato and onion curry. Serve with butter naan, roti, or jeera rice for a perfect treat. 
If you need fresh cashew nuts or cashew paste to prepare cashew nut recipes, visit
PureHeart
. Our products are 100% pure and fresh. We prepare each product with love and care, bringing desired creamy texture, and delectable taste to your dishes. Explore our unique products now!