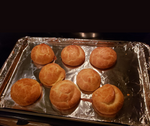 Warm and crispy cream puffs are what cozy evenings are made of!
Ingredients
1/2 cup milk

1/2 cup unsalted butter (cold, cubed)

1/2 cup water

3 tbsp sugar

1 tsp salt 

1 cup AP flour

2.25 cup heavy cream 

1/2 cup chocolate spread

5 eggs
Preparation:
For the Puffs
Mix water, butter, sugar, salt, and milk in a medium-sized pot on high heat until boiling. Take off heat.
Immediately add flour, and keep mixing until fully incorporated and the dough does not stick to the sides of the pot. 
Put the pot back on medium heat for 30 seconds, to remove excess moisture from the dough mix. Keep mixing to make sure the dough doesn't stick to the bottom of the pot. 
Let the mix cool for a few mins (warm to touch, but not hot and no visible steam coming off of it)
Mix in 4 eggs, one at a time to the dough. Make sure each egg is fully incorporated into the dough before adding the next egg. The dough will have a silky texture at the end, and not stick to the sides of the pot. 
Put the dough into a piping bag (you can also use a plastic ziplock bag and cut off the corner)
Pipe the dough onto the pan in small spirals. Whisk one egg with half a cup of water to make egg wash, and brush the mixture onto your puffs.
Put in the oven at 425°F for 10 mins, and then 350°F for 25 mins. (NOTE: Don't open the oven during this process, otherwise the puffs will not hollow out and rise). 
For the Cream:
Whip 2 cups of heavy cream till you have stiff peaks. 
Heat 0.25 cup of heavy cream for 30 seconds in a microwave till warmed. 
Pour heated cream onto any Pureheart Chocolate Nutspread, and mix well till loosened. 
Pour Pureheart Chocolate Nutspread mix into whipped cream, and fold it in gently till completely incorporated. It will look like a mousse.
Put it together!
Once the puffs are out of the oven, let them cool. You can either cut off the top of the puff, or make a small incision in the bottom of a puff with a knife. Pipe the chocolate mousse into the puff. Enjoy!