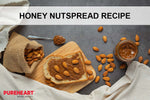 Foodie much? If you want to try something different from the plain old peanut butter, the honey nut spread recipe is just for you. Not only does it taste good, but it is also quite healthy. The main ingredients of this recipe are honey and almond which individually are very beneficial for human health. Further, when put together in this recipe, the butter evidently becomes healthy.
Honey and almonds together give the butter or nut spread a sweet and slightly salted taste. Drooling over this recipe? Well, then what's the wait? Let's get straight to the recipe for this mouthwatering honey and nut spread. 
How To Make Honey Nut Spread
Honey and almond nut spread is a simple two-step recipe. Without wasting much time let's get started with this delicious recipe. 
Ingredients 
First up is ingredients. You can't make anything without ingredients, right? So, for the honey and nut spread recipe, the ingredients are - roasted and salted almonds, honey, and melted coconut oil. Yes, all you need are these three ingredients to make yourself some mouthwatering nut spread. 
Recipe
Now, let's address the main question of how to make nut and honey spread. The first step is to select a blender. Make sure you choose a high-powered blender so that the recipe doesn't take long. You can use a blender from any top brand or just use whichever one is available. Add the roasted and salted almonds to the blender. 
You can easily get the salted almonds from Pureheart online. Just buy almonds from Pureheart and then roast them in a preheated pan and sprinkle some salt. Once they cool down you can use them.
Once the almonds are in the blender, your work is almost done. Start blending it and see the nuts turn into a delicious nut spread. Once the almonds turn into a smooth and creamy almond paste add some honey and coconut oil to it. Blend all the ingredients once again. VOILA! Your honey and nut spread is ready to eat.
Tips For Enjoying Honey Almond Nut Spread
Now that you know how to make honey and nut spread, wondering how to serve it? Don't wander because we have the answer. Mentioned below is the detailed list of various ways to enjoy the honey and almond spread. 
Take a spoon and dig into it. Yes, it is in itself a mouthwatering dish and doesn't require any add ons. 

If you like bananas and want to try them with a twist, spread this over the banana and enjoy a delicious treat. 

Ever had an English toast or muffin? Eat it with honey and nut spread. The delicious taste will make you forget all about the plain toast.
Benefits of Honey Almond Butter
Honey and almond are individually great ingredients with a manifold of surprising health benefits. Even when they are blended together they make a healthy and mouth-watering dish - honey and nut spread. Curious to know their benefits? 
Here we have mentioned the complete list of benefits of the honey and almond nut spread recipe. 
Heart Disease Prevention
Monounsaturated fats are abundant in almond butter. Monounsaturated fats aid in the reduction of LDL ("bad") cholesterol and the increase of HDL ("good") cholesterol. A variety of additional nutrients in almond butter aid to promote heart health and reduce the risk of heart disease. The omega-3 fatty acids aid in the prevention of abnormal cardiac rhythms. Vitamin E also aids in the prevention of plaque accumulation in the arteries. L-arginine can aid to increase the health of your artery walls.
Lower Risk of Some Conditions
Did you know almond butter has more vitamin E than most nut butter and spreads? Vitamin E is an antioxidant that may be useful in the prevention of diabetes, obesity, and some malignancies. Almond butter also contains antioxidants including flavonoids and polyphenols. And adding honey simply multiplies these benefits of almonds. 
Pureheart is a leading cashew and almonds exporter. We own a comprehensive range of nuts and premix products like almond paste, cashew paste, chocolate nut spread and a lot more.
Check out the online store today
!