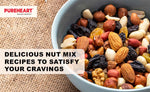 Are you a nut snack lover? Do you love eating trail mixes? If you are, you'll thank us as we're going to confabulate with seven delicious nut mix recipes in this blog. Being a snack lover, you would know that trail mix isn't just limited to old raisins and peanuts. In fact, there are a plethora of nut mix recipes that will quench your snack craving. One thing is clear, nut mix snacks are not only delicious but also healthy for the body. Everyone loves trail nut mix because it is lightweight, portable, and full of energy-dense ingredients, which include dried fruits, chocolate, nuts, etc.
So, before your mouth starts drooling, let's talk about these seven delicious nut mix recipes.
7 Healthy Nut Mix Recipes: Yummy & Delicious
Though there are no rules for trail mix, you can combine whatever you love. Nevertheless, we have brought you the top 7 nut & dry fruit recipes. Have a look.
1.     Chocoholic
Chocoholic is someone who loves eating chocolates. The first nut mix recipe we have on the list is for chocolate lovers. Take any brand of chocolate and mix it with hazelnuts, chocolate-covered almonds, dried cranberries, and cacao nibs. Indeed, this nut recipe is going to be very delicious and yummy for all the chocolate lovers out there.
2.    Rich & Creamy Nut Mix
As the name suggests, it is a cream-based nut mix trail, which is actually a dessert. In order to make this mixture mouth-watering, consider adding white chocolate chips, coconut flakes, chocolate-covered coffee beans, hazelnuts, cacao nibs, and obviously cream to complete the mixture. You can serve this rich & cream nut mix to your family, relatives, and friends.
3.    Peanut Butter Bosom Friend
Another healthy mix to satisfy your snack craving is peanut butter bosom friend. You can make this healthy nut mix by combining banana chips, peanuts, almonds, peanut butter chips, dark chocolate chips, and any other ingredient you want to add. Indeed, this delicious nut mix will be a true crowd-pleaser.
4.    Simple, Salty, and Sophisticated
Do you want to give your mouth a salty taste? If yes, this simple, salty, and sophisticated nut mix is what you need to prepare. How do you prepare this salty nut mix? Well, you need sweet and spicy nuts, dried cherries, sea salt, cinnamon, dark chocolate chips, and other nuts or ingredients you want to add as per your preference. You will surely fall in love with this healthy nut mix.
5.    Spicy Savoury Seeds
Want to try something delicious and spicy? This spicy, savoury seeds mix is what will quench your craving for spicy nut mix. Want to know what all things need to be added to this mix? This nut mix recipe calls for pumpkin seeds, almonds, garlic powder, cayenne pepper, salt, and sunflower seeds. No wonder this is going to be your spicy SEEDS mix, which is delicious in taste and good for health.
6.    Power Nut Mix
As the name suggests, this is going to be your perfect gym or workout nut snack. You need pistachios, flaxseeds, dark chocolate chips, sea salt, goji berries, and blueberries to make this recipe. You can take this mix with you to the office or whenever you travel. Indeed, the energy you will get after having this power nut mix will be unexplainable. So, try it now.
7.    Nut Lovers
You have got an idea that this mix is good for those who love eating nuts. There is no doubt that nuts are quite healthy for us and keep the body fit. Needless to say, this mix requires all the dried fruits to make it a delicious blend of the mix. Nevertheless, you need almonds, raisins, peanuts, walnuts, cashews, pistachios, etc., to make it a mouth-watering nut mix. Whether you're at home or going out, this nut mix will be your perfect partner of all time.
Want to buy branded and quality dry fruits for making these delicious nut mixes?
PureHeart
should be your go-to platform to buy these crunchy nuts at affordable prices. We're a well-known Cashew Company providing all types of quality dry fruits to our customers. Like our name, we believe in products' purity and quality and therefore provide products that offer 100% customer satisfaction.