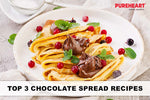 Hello chocoholics! 
Are you looking for different ways to add delicious chocolates to your daily diet? Well,  chocolates are a delicious treat that uplifts the mood and causes a feeling of excitement and happiness. This is what makes us go eccentric for it. Here you will learn how to make luscious chocolate desserts.
A bar of super-delicious chocolate spread with toast, and enjoying it with a glass of milk in the morning will uplift your mood for the entire day. Further, a chocolate spread recipe is incomplete without adding a handful of dry fruits. Wondering which chocolate spread recipe to make? 
In this blog, we will talk about the top three delicious chocolate spread recipes to kick start your day. The mentioned chocolate spread recipes are pretty easy, so, let's get started. 
Easy ways to prepare 3 Chocolate spread recipes 
A chocolate spread recipe is a highly delicious and mouth-watering recipe. Whether you're preparing it for a kid, friend, family, or yourself, once you eat this luscious chocolate spread, you will want to lick the knife clean. Let us now look at the super lip-smacking chocolate spread recipes below. 
Rustic chocolate raspberry tart 
Raspberry tart is a delectable dessert that's very simple to make. With fresh raspberries and chocolate-covered pastry crust, this tart is everything you need for a flavoursome start of the day. Let's talk about the ingredients and directions to prepare this chocolate spread recipe. 
Ingredients: 
2 cups of fresh raspberries 

⅓ cup of chocolate 

6 tablespoon butter 

5-ounce cream cheese 

2 tablespoons sugar 

1 tablespoon cornstarch 
Directions: 
Blend cheese and butter in a food processor. Add flour and process until you get the right dough shape. Wrap and refrigerate for one hour or overnight. 

Take a small bowl, and toss raspberries, cornstarch, and sugar with a fork. 

Now roll dough on a lightly floured surface. Spread chocolate and top with raspberry mixture. Fold the edge towards the centre of the tart. Pinch if needed. 

Bake for 45-50 minutes or until the crust is golden brown. 
Enjoy this sweet chocolate spread recipe with your kids. 
2. Chocolate hazelnut torte 
A cake recipe is considered to 'feed a crowd.' But we have come up with a little cake that can be mouth-watering with a chocolate spread. This chocolate spread recipe is enough to surprise your kids. 
Ingredients: 
⅓ cup butter 

1 cup sugar 

1 large egg 

1 cup all-purpose flour 

1 tablespoon vanilla extract 

1 tablespoon baking soda 

¼ cup baking cocoa

⅛ teaspoon salt 

½ cup sour cream 

½ coffee 
Frosting: 
7 ounces of chocolates (chopped)

2 tablespoon sugar 

1 cup heavy whipped cream

Chocolate curls and dry fruits
Directions: 
In a bowl, mix cream and sugar until light and fluffy. Add egg, vanilla, baking soda, cacao, flour, and salt. Beat until combined. 

Pour batter into a greased baking pan and bake at 350 degrees for 25-30 minutes until the knife inserted in the centre comes out clean. Let it cool.

For frosting, in a small pan, melt chocolate, cream, and sugar over low heat and stir until smooth. Refrigerate it for 15-20 minutes. 

Finally, spread chocolate frosting between layers, sides, and the top of the cake. Forget not to garnish it with chocolate curls and crunchy dry fruits (chopped).
Let your kids enjoy this delicious cake made with a chocolate spread recipe. 
3. Chocolate hazelnut banana crepe 
Last but not least, the chocolate hazelnut banana crepe is a lip-smacking chocolate spread recipe. Stuffed with banana, cream, and chocolate spread, it tastes elegant. Let's highlight the ingredients required to make this recipe. 
Ingredients:
4 medium bananas 

2 large eggs 

½ cup milk

¾ cup water 

1 tablespoon oil 

1 cup all purpose flour 

1 tablespoon sugar 

½ tablespoon salt 

2 tablespoon butter 

⅓ cup chocolate (melted) 
Directions: 
In a bowl, whisk eggs, milk, water, and oil. Add flour, sugar, and salt to the mixture, mix well, and refrigerate for 1 hour. 

Take a nonstick skillet, pour oil, and heat. Pour ¼ cup of batter into the centre of the skillet. Cook until the top appears dry, then flip and cook for 20-25 seconds. Repeat the process with the remaining batter. Make sure to stack crepes with waxed paper. 

Now take a large skillet, and melt butter. Add brown sugar and bananas, stir it, and cook for 2-3 minutes until slightly softened. 

Finally, spread chocolate over each crepe and top with a banana. Roll up and enjoy the crepe. 
So, enjoy this healthy chocolate spread recipe with your friends. 
All the three mentioned chocolate spread recipes are quite luscious and healthy. In order to enhance their taste, adding a handful of chopped dry fruits will work like icing on the cake. If you're wondering where to buy the crunchy dry fruits from, PureHeart is here to serve you. We're a leading company offering the finest quality dry fruits to customers at affordable prices. You can visit our online store and buy yourself some best dry fruits to add to chocolate spread recipes.