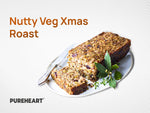 Make Festive Cooking Merry with our Salted Pistachios & Natural Almonds
Who said you need meat for delicious festive roasts? Here's one for the vegetarians and vegans - pumpkin, pomegranate, cranberries, Pureheart Salted Pistachios, Pureheart Natural Almonds - it's filled with festive flavours!

Serves: 6 people
Ingredients:
2 tbsp of milled flaxseed

400g of pumpkin - peeled, deseeded and cut into 3 cm chunks

3 tbsp of olive oil

2 tbsp za'atar

2 tsp of cumin powder

2 tbsp of coriander powder

1 finely chopped onion

1 finely chopped celery stick

1 garlic clove, crushed

200g roughly chopped Pureheart Salted Pistachios 

100g roughly chopped Pureheart Natural Almonds

100g fresh breadcrumbs

Half a small bunch of coriander leaves

200g fresh or frozen cranberries

4 tbsp brown soft sugar

Pomegranate
Instructions:
Part 1
Combine the flax seeds with 4 tbsp water in a small bowl and leave to thicken. 

Heat your oven to 200C/180C fan/gas 6. 

Toss the pumpkin in a roasting tin with 1 tbsp olive oil, the za'atar, cumin and coriander. Cover the tin with foil and roast for 30-35 mins, or until the pumpkin is tender but still holding its shape. 

Oil a 900g loaf tin and line with baking parchment.
Part 2
Heat the remaining oil in a frying pan. 

Fry the onion and celery for 10-15 mins, or until softened. 

Stir in the garlic paste.
Part 3
Tip the Pureheart Salted Pistachios, Pureheart Natural Almonds, breadcrumbs and coriander into a bowl. 

Then stir in the flaxseed mixture, fried veg and roasted pumpkin. 

Season well.
Part 4
Put the cranberries in a pan with the sugar and cook for 3-4 mins, or until the sugar has dissolved and the cranberries are just starting to soften. 

Spoon into the base of the loaf tin, then leave to stand for 5 mins to set slightly.

Top with a mixture of the nuts, patting it down firmly and smoothing the top with the back of a spoon. 

Cover with foil and bake for 25 mins, then uncover and bake for 25 mins more.

Leave to rest for 15 mins, then invert onto a serving plate, removing the parchment. 

Top with extra chopped pistachios and pomegranate seeds, then serve.
Order premium quality nuts from our store - 
Salted Pistachios Nutreat - https://tinyurl.com/8e6wa3w3 
Natural Almond Nutreat - https://tinyurl.com/2p8krcp9