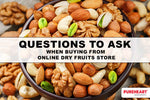 Dry fruits, nuts, and raisins are edibles that never go out of demand. Treated with a special status, dry fruits happen to be an essential delicacy in every household. Dry fruits and nuts are presented as a token of love to the nearest and dearest ones, especially at the time of festivals. In such a situation, we require a trustworthy online dry fruits store to grab quality nuts. 
If you are searching for a perfect gift for the light of your life or just want to make an occasion memorable, a box of dry fruits would be enough to showcase your love and gratitude. Known as a bolster of immunity and good health, benefaction of dry fruits is considered a sign of prosperity and affluence. Are you intending to buy good quality nuts but are unable to figure out which online dry fruits store is better? Or just confused about choosing the right dried fruit provider? Fret not! As we have listed general questions that consumers are habitually asking!   
1. Does The Online Dry Fruits Store Use Any Additives? 
Pretty much, this is the most common question customers tend to ask the online dry fruits store! We advise you to always check the ingredients section before buying any packet of nuts online. At PureHeart, we use downright natural products that are intended to boost the immune system and promote healthy snacking. When it comes to additives, our online dry fruits store avoids sulphites, colours, sweeteners, any additional sugar, or inorganic preservatives. At our online dry fruits store, we only use certified – Class 1 preservatives made from 100% natural products for our nut spread and mixes. We aim to provide you - Just the nuts and fruits in their dried form... Nothing else! 
2. Where Does An Online Dry Fruits Store Get Its Products From? 
Finding a particular source for getting all the dry fruits and nuts is nearly impossible. Moreover, many nuts grow in different parts of the country, and in different climates. This means an online dry fruits store needs to find the native dry fruits from their original land, as, at PureHeart, we guarantee an unmatchable quality (though we travel across the states to gather the best nuts, we do not call ourselves travellers). We source cashews from Kerala, Orissa, Tamil Nadu, Benin, Ghana, Gambia, and Andhra Pradesh ,  raisins from Maharashtra, almonds and cranberries from California, USA, and hazelnut & other dry fruits from Turkey and Middle East. This way our online dry fruits store ensures purity and quality at its maximum level.   
3. What Is The MOQ You Sell At Your Online Dry Fruits Store? 
MOQ – Minimum order quantity; plays an integral part while ordering and shipping any product from our online dry fruits store. You have to understand that not all nuts and dry fruits are the same. As we offer different packaging and accommodation for different products. For some high-in-demand nuts, we offer larger packets that may weigh up to 500 grams to 1 kg. While other products like saffron are highly expensive and occasionally demanded by customers, they are distributed in small packets and weight. However, at PureHeart, we have a truckload of products stacked up, so we can meet your demands on time; or as soon as you place an order. 
4. How Long We Can Keep These Dry Fruits In A Pantry? 
To be honest, every dry fruit and nut has its own shelf life and it could not be determined beforehand, though we mention an estimated date of use in every packet or box. If you keep the dry fruits in a sealed or vacuum-tight packet, in a suitable environment, they can be kept around the year. We provide only good quality – natural products at our online dry fruits store, which means if the dry fruits are kept for too long (in a favourable environment) they may change colour naturally, without spoiling the taste further. Moreover, we would suggest cross-checking every box before storing the dry fruits and nuts. 
To Conclude 
We understand that selecting an online dry fruits store is a tedious task, however, we believe some of the questions mentioned above would make the decision-making slightly easier for the customer. Dry Fruits and nuts, being an evergreen product never fall out of demand and people are always on the search for a reliable online dry fruits store. This is when the PureHeart community joins in! 
We share great alacrity to make every bite of your food delicious and crunchy with the goodness of nuts. Our products from the online dry fruits store consist of curated ingredients that enhance the flavour and possess health benefits. We provide nut treats, nut pastes, delicious nut spreads, and tangy nut mixes. You can choose from a wide range based on your preferences.