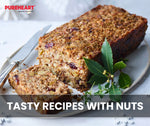 Foodie much? Is your mantra, "First, we eat. Then, we do everything else," as well? Pureheart brings you top recipes with nuts that will leave you craving more. 
Nuts are nutritionally rich and possess some essential vitamins and minerals. Recipes with nuts will not only give you healthy food but will also ensure a mouthwatering taste. 
So, without further ado, let's take a look at top recipes with nuts! 
Lip-Smacking Recipes With Nuts That Will Make You Crave For More
Did you know that nuts provide you protection against diseases like Alzheimer's and dementia? Having many benefits, it is advisable to add nuts to your daily routine. Therefore, recipes with nuts for two delicious dishes are mentioned below.
Vegan Nut Roast
If recipes with nuts are what you seek, Vegan Nut Roast is a must-try. 
Preparation Time - Less than 30 minutes
Cooking Time - 30 minutes to one hour
Ingredients -
Mixed nuts (almonds, hazelnuts) - 300g 

Vegan-friendly vegetable stock cube - 1 

Virgin olive oil - 2 tbsp (extra for greasing)

Finely chopped onion - 1 

Finely chopped celery sticks - 2 

Leek trimmed and thinly sliced - 1 

Coarsely grated carrots - 2 

Crushed garlic cloves - 2 

Cashew butter - 4 tbsp

Cooked chestnut (broken into small pieces) - 180g

Dried cranberries - 75g

Finely chopped fresh parsley - 20g

Finely grated lemon zest - 1 lemon

Almond or soy milk - 4 tbsp

Sea salt - 1tbsp

Black pepper 
Servings - 6
Method - 
Finely chop all the nuts and stock cubes, or use a food processor. 
Preheat the oven to 200C/180C 

Heat oil in a frying pan. Once hot, fry the finely chopped onion, celery, leek, and carrots for about five minutes, but make sure you stir regularly. Then add the garlic cloves and cook for a few more seconds. 

Put this in a mixing bowl and mix it with cashew butter. Once mixed adequately, add finely chopped nuts, dried cranberries, parsley, lemon zest, soy or almond milk, and sea salt. Sprinkle some ground black pepper, and mix thoroughly.

Take a spoonful of this mixture and lay it on the prepared tin loaf. Cover it with another foil and bake for 30 minutes. After that, remove the foil and bake it for another 20 minutes. 

Remove the foil and let it cool for 5 minutes before loosening the edges. Cut it into thick slices and serve hot with a vegan gravy!
Pear and Almond Flapjack Tart
Yet another recipe with nuts is pear and flapjack tart. 
Preparation Time - 30 minutes
Cooking Time - 50 minutes
Ingredients -
Block pastry - 500g

Cored and sliced pear - 5

Golden caster sugar- 25g (extra for sprinkling)

Pinch mixed spice

Flaked almonds

Custard or pouring cream
For the topping
Porridge oat - 140g

Plain flour - 50g

Ground almond - 50g (extra if your pears are ripe and juicy)

Golden caster sugar - 100g

Diced cold butter - 140g

Golden syrup - 3tbsp
Servings - 6
Method -
Preheat the oven to 180°C/160°C. Roll out the pastry and line the tart tin. Bake for 20 minutes after lining with greaseproof paper and baking beans. Take out beans and paper, then bake for another 10 minutes.

Stir the pears with the sugar and spices,  and put them aside. For the topping, mix oats, flour, and ground

almonds

with sugar and a bit of salt, then rub in the butter with your fingers. Then, add the golden syrup.

Preheat the oven to 200°C/180°C. Lay the pears on the tart's base, flatten the oaty pastry into a circle and place it over the pears. Bake for 30 minutes and sprinkle some sugar. Allow it cool for a few minutes before serving.
Pureheart
is a leading nut processor and exporter. We offer you the best quality cashews and almonds. Both the nuts have several benefits, and we aim to bring them to you with our quality products.