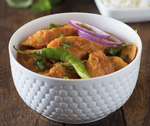 Pista-Stuffed Chickpea Flour Dumplings in Rich Cashew Tomato Gravy
You can find everything you need for this recipe here: 
https://pureheart.com/collections/all
Ingredients:
Chickpea flour dumplings (Gatte)
1 cup Chickpea Flour Besan

2 tbsp Oil

1/2 cup water to knead
Spices
1/4 tsp Turmeric powder

1/4 tsp Red chilli powder

1/2 tsp Caraway seeds Shahi Jeera

1/2 tsp Carom seeds Ajwain

1/4 tsp Nigella sativa Kalonji

1 tsp Salt as per your taste
Filling for Dumplings:
1/2 cup Indian Cottage Cheese Paneer

16 grams Pureheart Salted Pistachios chopped

1 tbsp Ginger grated

1/2 tbsp Green chillies finely chopped
Spices
1 tbsp Coriander seeds crushed

1 tsp Black pepper crushed

1 tsp Cloves 6-8 piece crushed

1 tsp Cumin seeds

1/2 tsp Red chilli flakes

1 tsp Salt to taste
Gravy
Homemade Tomato paste – 1/2 cup (6 to 7 tomatoes to make the paste)

Pureheart Natural Cashew Nutpaste - 2 tbsp

 Poppyseed paste – 1 tbsp 

2 tbsp Hung curd khoya

1/3 cup heavy whipped cream – 1/4 cup + 1 tbsp for topping

1 tbsp Ginger paste

1 tsp Green chillies

1/4 cup Cilantro Handful of chopped

1 tbsp Oil
Spices
1/2 tsp Turmeric powder

1 tsp Coriander powder

1/2 tsp Red chilli powder

1/4 tsp Black pepper

1 tbsp Kasoori Methi Roasted

1/4 tsp Garam masala

1/2 tsp Dry mango powder

1 tsp Salt as per your taste
Instructions
Chickpea flour dumplings (Gatte)
In a mixing bowl, mix all the ingredients of the dumpling and knead it into a stiffer than roti/chapatti dough.

When the dough is done, keep it aside for 10-15 minutes.

While the dough is resting, mix all the ingredients of filling in a separate bowl.

Now divide the dough and filling into equal small balls.

The above quantity will give you around 14-15 pieces.

Now take each ball of chickpea flour and press it with your thumb and fingers and flatten it into a flat disc.

Place one ball of filling onto this flattened dough and cover it and make a round again, covering the filling properly with the dough.

Repeat the process until done with all.

Meanwhile, heat some water in a pan for boiling these dumplings.

Add these stuffed dumplings to the rolling boil water and let them boil for 10 minutes or until they start floating on the surface.

Once done, strain these dumplings and keep the water aside.

Now heat oil in a pan/kadhai for deep frying these boiled dumplings. Deep fry them on medium heat.

Keep the fried dumplings aside and start working on gravy for these dumplings.
For Gravy, to make both pastes:
Tomato paste: Heat oil in a pan add ginger paste, green chillies paste and tomato puree of 6-7 tomatoes and cook until all the water of tomatoes are gone and puree start separating oil.

Pureheart Natural Cashew Nutpaste and poppy seed paste:  Blend the cashew nutpaste and poppy seeds with some milk and cook until the mixture starts separating oil.

Now add both the paste to a pan and mix and cook for a few minutes.

When the tomato and nut mixture is cooked and roasted nicely add hung curd or mawa/khoya to it and give it a good mix.

Now add around 1-2 cups of water, which you kept aside after boiling the dumplings, little by little and stir vigorously until you get your desired consistency.

Add all the spices except garam masala, dry mango powder and Kasuri methi and stir the gravy well to mix spices uniformly.

Add some more water or milk if you feel that the consistency of gravy is still too thick and let it simmer for a few minutes.

Now add deep fried stuffed dumplings and 1/4 cup of heavy cream to the gravy and let it simmer further.

While the gravy is simmering roast Kasuri methi a little, roasting will further enhance the flavour of Kasuri methi.

Sprinkle some garam masala, dry mango powder and roasted crushed kasuri methi.

Now, transfer the dish into a serving bowl.

Before serving garnish it with little heavy cream, grated paneer and cilantro to give that royal look what this dish deserve and enjoy.
Let us know if you try this recipe!