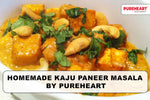 Hola foodies!

Thinking of Kaju and Paneer? If you are craving a lip-smacking savoury delicacy, why not try - Kaju Paneer Masala? A spicy and flavourful dish with two very healthy ingredients - Paneer and Kaju, is enough to water your mouth. The best part? It is very easy to prepare! Kaju Paneer Masala is different from regular paneer dishes. This particular delicacy is the pride of North Indian Cuisine. Paneer cube and roasted natural cashew indulged in a savoury and creamy North Indian curry - even the thought of it is mouthwatering, right? 
Speaking of Kaju Paneer Masala, here in this blog, we will walk you through the complete recipe, so stride along! 
Easy Recipe For Kaju Paneer Masala
Kaju Paneer Masala is usually served with chapati, garlic naan or butter naan. If you want, you can add salad and pickles as a side dish to further enrich the flavour of this dish! 
Move on to the next section to find the complete recipe for Kaju Paneer Masala. 
Prepare Time
- 10 minutes 
Cook Time
- 30 minutes 
Serves
- 4 people 
Ingredients
Here, find the complete list of ingredients to prepare Kaju Paneer Masala. 
2 tablespoons of oil

Cottage Cheese/ Paneer - diced into 12 cubes 

2 tablespoons of

Pureheart's Natural Cashew

1 tablespoon of butter

1 bay leaf

3 pieces of clove 

2 pods of cardamom (elaichi)

1 tablespoon of cumin (jeera)

1 finely chopped onion

1 tablespoon of ginger garlic paste (purchased or homemade)

½ tablespoon of turmeric

1 tablespoon of Kashmiri red chilli powder

1 tablespoon of coriander powder

¼ tablespoon of cumin powder 

¼ tablespoon of garam masala

1 tablespoon of salt 

Tomato puree (one and a half cups)

2 tablespoons of

Pureheart's Cashew Paste

 

2 tablespoons of cream 

¼ cup water

One tablespoon of Kasuri methi (crushed)

Finely chopped coriander - 2 tablespoons (for garnishing)
The nutritional value of Kaju Paneer Masala is mentioned below: 
Calories: 221 kcal

Carbohydrates: 17 g

Protein: 5 g

Fat: 17 g

Saturated Fat: 4 g

Cholesterol: 15 mg

Sodium: 629 mg

Potassium: 602 mg

Fibre: 3 g

Sugar: 7 g

Vitamin A: 947 IU

Vitamin C: 18 mg

Calcium: 64 mg

Iron: 4 mg
Instructions For Kaju Paneer Masala
Now that you have all the ingredients let's move on to the recipe. Follow the below-mentioned instructions to prepare a delightful serving of Kaju Paneer Masala. 
To prepare Kaju Paneer masala, you first need to heat a wok (kadhai) at a medium flame and then add two tablespoons of oil. Once the oil is heated, add two tablespoons of Pureheart's Natural Cashew and saute it till the cashews turn slightly brown. Take out the cashews and, in the same oil, add the 12 cubes of paneer. Saute it till the paneer starts to change its colour to slight brown. Keep both roasted cashews and paneer aside. 
The next step in the Kaju Paneer Masala recipe is the preparation of curry. Now in the same oil, add one tablespoon of butter, add the bay leaf and saute it. Thereafter, add cloves, cardamom and one tablespoon of cumin to it, and saute it well. 
Once the raw spices are nicely sauteed, the next step in Kaju Paneer Masala is to cook the puree. Add finely chopped onion and one tablespoon of ginger garlic paste to the sauteed spices, a; saute it well. Once the onion turns golden-brown, lower the flame and add the spices - turmeric, chilli powder, coriander powder, cumin powder, garam masala and salt (as per your taste).  Saute this mix on a low flame till you smell the flavoursome aroma of Kaju Paneer Masala puree. Saute on low flame until it turns aromatic.
Once you smell the aromatic flavours of Kaju Paneer Masala, add tomato puree to this mix (to make the puree, you can blend three-four tomatoes till it turns into a smooth paste).  Now, cover the wok (kadhai) with a lid and let the puree cook at a low flame for 10 minutes. Stir it at intervals so that the puree is well cooked. Let it boil till the oil separates from the puree.  
After the oil is separated from the puree, add Pureheart's Cashew Paste to it and further saute it till the oil separates. Then add cream and cook it on a low flame. 
When the puree is properly cooked, add water to the curry to adjust the consistency of the curry. Let it cook, then add the sauteed paneer and Kaju to the gravy of Kaju Paneer Masala. Cover the wok with a lid and let Kaju Paneer Masala cook at a low flame. 
Mix the dish well, but remember not to stir it rigorously to avoid crushing the cubes of the paneer. To garnish Kaju Paneer Masala, add Kasuri methi and coriander and mix well. There- you have a flavourful Kaju Paneer Masala ready to eat. 
Savour its flavour with chapati or garlic naan. 
A delicacy is only delicious when the ingredients are of premium quality. Kaju being one of the main ingredients of Kaju Paneer Masala, should be of top-notch quality. Turn to
Pureheart
in a blink of an eye to get your hand on rich quality cashew nuts and cashew paste.