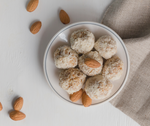 This easy to make and delicious treat are perfect for work travel, weekend hikes or a healthy after school snack. They are naturally gluten-free and can easily be made vegan. Everyone will LOVE this recipe!
Serves: 22 PROTEIN BALLS
Prep time: 10 MINS
Cook time: 0 MINS
Total time: 10 MINS
INGREDIENTS
1 cup quick oats

½ cup unsweetened shredded coconut

¼ cup each: 

Chopped Pureheart Natural Cashews

Chopped Pureheart Natural Almonds 

Chopped Pureheart Salted Pistachios

Sunflower seeds

Raisins

¼ cup mini vegan chocolate chips

¾ cup natural peanut butter

¼ cup honey
INSTRUCTIONS
Place the oats, coconut, sunflower seeds, raisins, chopped Pureheart Natural Cashews, chopped Pureheart Natural Almonds, chopped Pureheart Salted Pistachios and the mini vegan chocolate chips in a large bowl. 

Add peanut butter and honey, mix everything well. Easier to start mixing with a wooden spoon and then use your hands at the end.




Once the dough comes together, form it into 22 balls. You'll need about 2 tablespoons per ball.

Store in your fridge for firm balls. Leave covered on your counter for softer ones.
Energy boosting, nutritious snack that takes just 10 minutes to cook. Who says you can't have both healthy and heavenly?
Order our Natural Cashews, Natural Almonds, Salted Pistachios - https://tinyurl.com/4cj2jxyw