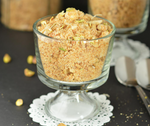 Panjiri is an excellent winter treat. This super-food is prepared with ghee, wheat flour, semolina and loaded with the goodness of nuts. 
INGREDIENTS
200 gm ghee

3/4 cup sugar

30 gm Pureheart Natural Cashews

30 gm Pureheart Natural Almonds

1 tablespoon watermelon seeds

1/2 teaspoon spice cardamom

200 gm wheat flour

3/4 cup lotus seed

1 tablespoon melon seeds

11 tablespoon crushed Pureheart Salted Pistachios
INSTRUCTION
Warm Pureheart Natural Cashews and Pureheart Natural Almonds in ghee for a minute, transfer them to a bowl and keep them aside. 

Shallow fry the lotus seeds, on the same pan as step 1, with ghee over a medium to light flame for a good 5 to 6 minutes until they turn crispy. After the lotus seeds are done frying, transfer them to the same bowl where the cashews and almonds were kept. 

Using a grinder jar, coarsely grind them together.

Next, put a kadhai and preheat 1 cup of ghee in it. Add wheat flour and roast it for 6 to 7 minutes or until you observe a golden coloured flour. 

To it, add crushed Pureheart Salted Pistachios, cardamom powder, watermelon seeds and melon seeds. Roast for another 5 minutes or so. 

Then add the mixture of ground almonds, cashew and lotus seeds. While stirring frequently, roast the entire amalgamation for a good 6 to 7 minutes. Remove from heat and mix sugar to the result. 

Let the mixture cool down and your panjiri is all set to be enjoyed.

Tips: To make the panjiri more delicious, toss the flour till it turns golden in colour. You can add some saffron strands to give your panjiri a nice flavour.
Order our premium Nutreats today - https://tinyurl.com/4cj2jxyw