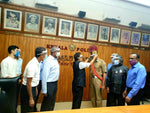 Pureheart from Western India Cashew Company is doing its part in protecting Kerala's frontline warriors as they continue to serve in India's battle against Covid19, risking their lives every day. 
The company has handed over much needed Face Shields to the police and healthcare workers. 

The company, represented by President, Mr Hari Krishnan Nair handed over100 Face Shields to Kerala Police Head Quarters and another 500 to the Police in Kollam district - the headquarters of the company. 
Mr Nair also met with K.K Shailaja, the Health Minister of Kerala and handed over another 500 Face Shields to her.