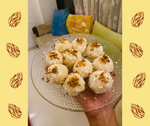 You don't need to depend on your favourite sweet shop when you can whip up laddoos right at home!
INGREDIENTS
1/2 cup condensed milk

1 1/2 cup desiccated coconut

1/2 cup Pureheart Almonds 
PREPARATION
Roast the coconut in a pan until fragrant. Make sure it doesn't stick to the bottom of the pan.

 Roast Pureheart Natural Almonds in some ghee. Ensure they don't get burnt
Put the almonds in a mixer and crush into a fine powder.
 Mix the almonds with the desiccated coconut in the pan. Mix evenly.
Slowly stir in the condensed milk. 
 Cook the mixture and stir continuously until they form a mass.
 Let it cool ad then roll the mix into balls. 
 Roll the laddoos onto some desiccated coconut. Garnish with chopped, Pureheart Natural Almonds.