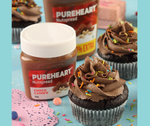 INGREDIENTS
1 cup (130g) all-purpose flour

1/2 cup (100g) sugar

6 tbsp (43g) PH Choco Cashew Nutspread

1 tsp baking soda

1/2 tsp salt

1 large egg

1/2 cup (120ml) buttermilk

1/2 cup (120ml) vegetable oil

3/4 tsp vanilla

1/2 cup (120ml) hot water
Preparation
Step 1
Preheat the oven to 300°F (148°C) and prepare a cupcake pan with liners.
Step 2
Add the dry ingredients to a large bowl and whisk together. Set aside.
Step 3
Combine the PH Choco Cashew Nutspread, egg, buttermilk, vegetable oil, and vanilla in another medium-sized bowl.
Step 4 
Add the wet ingredients to the dry ingredients and mix until well combined.
Step 5
Add the water to the batter and mix until well combined. The batter will be thin.
Step 6 
Fill the cupcake liners about halfway and bake for 18-23 minutes, or until a toothpick comes out with a few moist crumbs.
Step 7
Remove the cupcakes from the oven and allow to cool for 2 minutes, then remove to a cooling rack to finish cooling.
Step 8
Top with a dollop of the PH Choco Cashew Nutspread