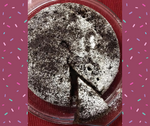 A yummy and simple to make treat for the family - with any Pureheart Chocolate Nutspread - Almond, Hazelnut or Mixed!
INGREDIENTS
1.5 cups maida/wheat flour

¼ cup PH Chocolate spread (any flavour)

1 tsp baking soda

½ salt

1 cup of water

1/3 cup olive oil or melted butter

1 tbsp lemon juice or vinegar

1 tbsp vanilla extract

3 tbsp ground sugar (for dusting)
PREPARATION
Pre-heat oven to 220C and grease a cake mould with oil. Dust the mould with flour and keep aside.

Sift maida, soda, salt together. Sift at least 3 times.

In a separate vessel, mix Pureheart chocolate spread, oil/butter, lemon juice/vinegar, vanilla extract and water. Mix gently.

Slowly add the maida mix in the liquid ingredients. Mix the maida using the cut and fold technique.

Pour the batter into the greased cake mould.

Bake at 200 C for about 18-20 min. Baking time would vary as per oven.

Once the cake is cooled, dust it with ground sugar.