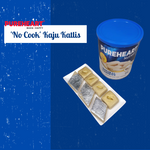 Kaju Katli - undoubtedly one of the most loved Indian sweets, one that needs no special occasion to be enjoyed! Here's a simple, no-cooking-involved recipe for you to make it at home!
INGREDIENTS
Pureheart Creamy Cashew Nutspread 3 tbsp
1/2 cup Pureheart Nutreats Natural Almonds
1/2 cup Pureheart Nutreats Natural Cashew
 PREPARATION
Combine handful sunflower seeds & a pinch cardamom powder

Grind the almonds, cashews and seeds together

Mix with Pureheart Creamy Cashew Nutspread

Spread on a greased plate & make a criss-cross pattern

Cover with cling film & let it harden for 20 min in the fridge

Take it out of the fridge and enjoy the happiness with your family!