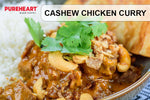 Indian food is all about rich gravy, spices and aroma! Planning a dinner party or a small get-together with a savoury dish can turn you into a perfect host for the evening. Looking for the best dish to serve your guests? Nothing tastes better than a local cuisine that is fulfilling and compels your guest to ask for a second serving. We have the best Chicken Curry Recipe that is a perfect blend of rich sauce and Indian spices. You can serve cashew chicken curry with garlic naan, paratha or rice. 
A homemade chicken curry recipe with aromatic ingredients is easy to cook and would turn into a perfect meal for the evening. The best part of this cashew chicken dish is you can easily grab the ingredients from your kitchen, like garam masala, ginger, lime, coriander powder, garlic cloves etc. Needless to say, this Indian chicken curry with cashew nut paste would take around 30 minutes to cook. Let's pin down the ingredients you require for cooking a perfect chicken curry with rich cashew sauce.  
Ingredients Required For A Chicken Curry Recipe
This cashew chicken curry recipe serves two to three individuals, and if you are looking to cook for more people, add the ingredients according to the same proportion. Your chicken curry with cashew nut paste requires,  
Salt According To Your Taste 

2 Teaspoon Ground Cumin 

2 Teaspoon Paprika Or Red Chilli Powder

1 Teaspoon Coriander Powder 

½ Teaspoon Cayenne Pepper

Half Teaspoon Turmeric Powder 

2 Teaspoon Ground Garam Masala 

Half Kg Boneless And Skinless Chicken Or Chicken Breast 

1 Tablespoon Olive Oil

2 Tablespoon Butter 

1 Onion Finely Chopped

1 Inch Minced Ginger 

4-5 Garlic Cloves, Minced

1 Cup Fresh Tomato Puree

1 Cup Chicken Broth 

2 Cups of Cold Water 

¾ Cup Whole Roasted Cashews 

Chopped Green Chillies According To Your Taste
For Garnishing - 
⅓ Cup Sliced Green Onions

⅓ Cup Freshly Chopped Coriander Leaves

1 Lime Juice 

1 Tablespoon Of Butter     
The listed ingredients can vary according to your taste buds. If you want it spicy or tangy, you can include green chillies, extra tomato puree or lime to the gravy. This chicken curry recipe requires only 30 minutes to cook, marinating chicken is also an important part and marinating chicken pieces for extra flavour. Let's dive into the steps of preparing a finger-licking cashew chicken curry recipe. 
Directions To Prepare A Chicken Curry Recipe
Cooking a scrumptious meal is not difficult if you are fully aware of the ingredients and right steps for preparing a chicken curry with cashew nut paste. 
Step 1 (Marination) 
Prepare a mixture of salt, red chilli powder, cumin powder, turmeric, coriander powder, cayenne and garam masala in a bowl. 
Step 2 
Equally cut, cleaned chicken pieces; for extra flavour, you can mark small creases with a knife; this would let chicken hold the flavour. Mix chicken pieces in the bowl of spices and pour half a spoonful of oil for an even finish. Let it marinate in the fridge for 4 to 12 hours. 
Step 3 (Cook Chicken)
Heat butter in a large pan until golden brown. Place marinated chicken on the pan in a single layer. Cook each piece of chicken for 4 to 5 minutes on each side. Place chicken in a tray and save juice and oil for later use. 
Step 4 (Chicken Curry Or Gravy Preparation) 
Heat the remaining butter in a pan; add onion, spices, garlic, and ginger. Saute for 30 seconds and add tomato puree. Cook for another 3 minutes and pour in the chicken broth. Once everything is simmering, add the remaining juices and chicken pieces. 
Step 5 
Now, take whole cashew nuts and blend with water until very smooth. Pour cream while regularly stirring the pan. On medium heat, cook the cashew chicken curry for around 20 to 25 minutes. Before serving, garnish with green onions, lime juice and cilantro. Topping with garam masala and butter can do wonders. 
The wait is finally over, it's time to dig in the best cashew chicken curry with naan or rice! 
Pro-Tip

 
Cooking any dish requires its ingredients to be of top quality. The chicken curry with cashew nut paste is rich in flavour and the best way to improve the flavour and aroma is to use quality ingredients, especially cashews.
PureHeart
serves delicately flavoured cashew nuts that are enriched with taste and nutrients. Good quality whole cashew nuts by PureHeart can make your chicken curry even tastier.