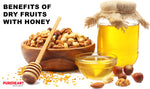 A diet specialist and even our parents always recommend consuming a handful of dry fruits daily. Not only are dry fruits healthy and tasty, but they are the best snack to keep your body fit and full of energy. Dry fruits like almonds, walnuts, raisins, cashews, pistachios, etc., contain an abundance of proteins, essential oils, and minerals. Indeed, dry fruits are tasty, but how about mixing dry fruits with honey?
Honey is a rich source of proteins, minerals, good fats, and antioxidants. Undoubtedly, the medical properties of dry fruits and honey complement each other. The mix of these two will surely work as an energy and immunity booster. With its natural sweetness and medical properties, honey will surely add value to dry fruits, and daily consumption of them will improve health concerns as well. 
Today, in this blog, we're going to confabulate with the benefits of dry fruits with honey. 
Top health benefits of mixed dry fruits with honey 
Honey has been used as a medical drug for over 5000 years. Mixing dry fruits with honey is not only good in taste but also offers numerous health benefits. Let us explore the amazing health benefits of dry fruits with honey. 
Boosts immunity 
One of the first benefits of mixing dry fruits with honey is that it is a great source for boosting the immune system. Since dry fruits and honey have antioxidant properties, it boosts supplements like Zinc, Iron, and Vitamin B. Honey has been regarded as boosting immunity since Vedic times. So, why not mix dry fruits with a spoonful of honey into your cereal to boost immunity? 
Enhances brain health 
Dry fruits like almonds are believed to enhance memory power and keep the brain active and healthy. Vitamin E in almonds is great for improving the overall health of the brain, boosting alertness, preventing cognitive decline, and preserving memory power. Combining dry fruits with honey will be very effective for overall brain health. 
Reduces unwanted cholesterol
Another benefit of dry fruits with honey is that it helps in reducing bad cholesterol. Almonds and walnuts are rich in magnesium, potassium, dietary fibre and manganese that help in reducing cholesterol in your body. Further, the antioxidant properties of honey will boost the dry fruits' ability to flush out bad cholesterol from your body. Regular eating dry fruits coated with honey increases the HDL or good cholesterol. 
Makes skin spotless 
Do you have acne or spot marks on your face? You will be glad to know that eating dry fruits with honey will benefit your skin. As you start consuming this wonder mixture daily, it will improve your skin's health. Further, you can apply honey directly to your spots and make them go away. Even a face pack made with dry fruits and honey will clean your skin pores and help you get soft baby skin in no time. Since almonds are rich in Vitamin E, it is an essential nutrient for keeping the skin healthy and glowing. 
Prevents diabetes 
You must know that consuming an excess amount of crystalised sugar will likely give a rise to blood sugar levels. Eating dry fruits with honey will help prevent diabetes. Since honey is a natural or an alternative sweetener, if you consume it in a limited amount, it will lower the risk of diabetes. The fact is that honey has the ability to lower the elevation of the plasma glucose levels of diabetes. 
Aids in gaining weight 
Honey and dry fruits contain healthy fat that can help you manage weight. If you're worried about being underweight and want to gain healthy fat in your body, you must eat dry fruits with honey. This healthy mixture will give you a jolt of energy throughout the day. Moreover, it will also boost your body's metabolism. Consuming a handful of dry fruits with honey will help you gain weight in a healthy way. 
Increases memory 
Have you ever wondered why walnuts resemble the shape of the human brain? Simply because they increase brain activity and help in memory retention. In this modern era, we're all leading a hectic lifestyle where forgetting things has become quite normal. Thanks to dry fruits with honey, which is becoming a healthy diet in helping you increase memory. You can take a glass of milk and add walnuts, almonds, and other dry fruits to help relieve sleep trouble and boost memory. 
Want to make dry fruits with honey a part of your daily routine? Looking for quality and affordable dry fruits to kick start your healthy diet journey? Pureheart is here to serve all your needs in regards to dry fruits online. We're one of the eminent cashew companies in India, offering quality and fresh dry fruits at pocket-friendly prices. Whether you want to buy cashews, almonds, pistachios, or any other dry fruits, we offer quality and crunchy dry fruits suitable for your pocket.