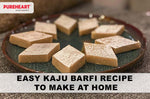 How To Prepare Kaju Barfi At Home With Ease? 
Kaju Barfi, also known as Kaju Katli, is a delicious traditional Indian cashew fudge that melts in your mouth. This delectable sweet includes a hint of rose, but you can easily customise it with your choice of flavour. However, it is not the easiest recipe to prepare at home with readily available ingredients; every bite of it is worth your efforts. Follow step-by-step instructions to prepare Kaju Barfi at home. 
About Kaju Barfi 
Kaju Barfi is a traditional North Indian sweet made of cashew nuts, sugar and cardamom powder. It is a delicious candy with a melt-in-mouth texture. It is one of the top-selling Indian sweets that witnesses a high demand in Indian sweet shops throughout the year. People love to receive a box of Kaju Barfi on special occasions and festivals. Gifting a box of Kaju Katli is ideal for spreading the delight of festivity in India. 
Health-conscious people avoid buying sweets from stores because synthetic flavours and preservatives are added to them. And why purchase sweets like Kaju Barfi from outside when you can easily prepare it at home with the time-tested recipe. 
Traditional Kaju Barfi Recipe Vs Easy Kaju Barfi Recipe  
There are plenty of methods to make Kaju Barfi at home. The traditional process involves the right sugar syrup consistency to add Kaju Paste or powder, and this recipe is suitable for those who know the exact sugar syrup consistency. 
While the easy Kaju Barfi recipe is the simplest method appropriate for beginners, this recipe doesn't require sugar syrup consistency or cashew paste. Here we are explaining the easy method that delivers the results as good as the traditional method. Before diving into the easy Kaju Barfi recipe, let's know about your ingredients to prepare Kaju Katli. 
Ingredients you need to prepare Kaju Barfi
The ingredients list for the Kaju Barfi recipe includes some of the readily available things. You need cashews, sugar, water, ghee, butter or coconut oil (optional) to prepare Kaju Katli at home. You can choose from ghee, butter or coconut oil to make a smoother Katli dough. Moreover, fresh rose leaves are also added to it, but it is entirely optional, and you can skip it. If you prefer flavouring, you can add saffron, rose water or cardamom powder as per your choice. Many people add edible silver foil to give it a shiny appearance, though you can avoid it altogether.  
How to make Kaju Katli at home with ease?
Follow these step-by-step instructions to make mouth-watering and scrumptious Indian Kaju Barfi fudge at home. 
Grind a cup of cashew (Kaju) in a grinder or blender. Ensure cashews are kept at room temperature and their dryness is intact. Avoid refrigerated cashews because the moisture available in cashews will turn them into a paste instead of power. Grind the cashews to make a smooth cashew powder. Ensure you have not over grind cashews and fat is not released from the cashews. We need cashew power, not cashew paste or butter. 

Take a thick bottomed pan and add half a cup of sugar and five tablespoons of water. Stir it on a low flame until the sugar is dissolved in the water. 

Add the cashew powder you prepared once the sugar is completely dissolved in the water. 

Keep stirring on a low flame and keep breaking the lumps if there are any. The more you stir, the smoother the Kaju Barfi dough you will make. The entire process of making Kaju Barfi dough will take around 8 minutes. 

Now, you will see the mixture thickens slowly. To check whether the dough is ready, take a small piece of dough and make a ball of it. If the ball is not sticking in your fingers, the dough is ready. Now place the mixture on a tray or work surface. 

If you wish to add flavours to the Kaju Barfi, you can add rose petals, saffron or cardamom powder. Moreover, you can also add a tablespoon of ghee or coconut oil. Let the dough rest so that you can handle the heat. 

Knead the dough gently on a tray greased with ghee or butter to make a thin layer. Make sure the dough is cool enough while kneading. Put the tray in the refrigerator for a while, and then cut the slices of Kaju Barfi in preferred shapes. 
This is how you can prepare Kaju Barfi at home with ease. If you don't know where you can source premium cashews, visit -
Pureheart
. With an assorted range of delicious nuts and
nut spreads
, Pureheart is one of India's top value-added premium Kaju Products exporters.