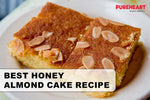 Nothing could be compared to a crunchy and delicious homemade cake. Homemade cakes play an important role in taking every individual down memory lane; the days when our mothers and grandmothers used to bake for us. 'Honey almond cake' is a cake TO DIE FOR! 
If you are not into cakes with large frosting and decorations; this tender, sweet and crunchy cake would leave your mouth drooling. Homemade cakes are not only delicious but healthy, this means you can enjoy the benefits of this dessert, with the goodness of almonds. 
From healthy to indulgent, the honey almond cake is your instant answer to scrumptious desserts and snacks. Join our recipe page for easy and delicious recipes, also share this sweet love with your family and friends. 
Recipe for homemade honey almond cake (Eggless) 
Honey and Natural Almonds are the star ingredients in this. Apart from all the health benefits that almonds have on our bodies, this honey almond cake would tingle your taste buds with its nutty and sweet flavour. Talking about the ingredients, you would require - 
Ingredients for honey almond cake 
1.5 cup all-purpose flour

1/2 tsp Baking soda

1 1/4 tsp Baking powder

1/4 tsp Salt

1/4 cup Almond meal

1/4 cup White sugar (using raw or regular sugar would work) 

3/4 cup yoghurt (You can use plain Greek yoghurt, hung yoghurt, or coconut yoghurt) 

1/3 cup oil (In case you use coconut yoghurt, use coconut oil, in other cases use any) 

1/4 cup + 1 tbsp Honey (keep them separately) 

4-5 drops of Almond extract

1/2 tsp Rose water (Optional)

1/4 cup Slivered almonds or sweetened almonds 
Ingredients for honey syrup 
1.5 tbsp Water

1.5 tbsp Honey

4-5 drops of Rosewater (Optional)
Instructions to prepare homemade honey almond cake 
Preheat the oven at 180°Celsius . Grease a 6-inch cake tin.

For the batter, pour the flour, baking powder, salt and baking soda into a bowl. 

Now add the almond meal and white sugar to the dried mixture of flour and baking powder. 

Take another bowl and whisk the mixture with honey, yoghurt, coconut oil, some almond extracts and rose water.

Once your mixture is ready, pour it onto the dried mixture. 

Do not overmix, try to pour a little and gently mix. 

Pour the mixture into the cake tin and decorate the outer layer with silvered or sweetened almonds. 

Keep it in the heated oven for 30-35 minutes, insert a skewer in the cake's center and check if it comes out clean or not. (remember the skewer must be clean to ensure the cake is cooked). 

Once the cake is cooked, leave it aside until you prepare for syrup. 
Prepare the honey syrup 
Boil the water, turn off the heat, pour honey and rose water then stir well. Let it cool.  

Once the cake is ready, use a skewer and poke small holes all over the top of the honey almond cake. Pour syrup and let it rest for 30 min.

Garnish the cake with rose petals and serve!  
Notes- 
Once your honey almond cake is cooked and served, make sure to keep the leftovers in a suitable place. 

Focus on the honey syrup as it is one of the main ingredients that add flavour and aroma. 

In case of limited silver or sugared almonds, you can switch to simple almonds. It is

easy to buy them online

.  

Drizzle a dash of honey before serving it to the guests, it would enhance the flavour and make the cake moister. 
How to store the cake? 
Without any frosting or cream, the honey almond cake may get dry instantly. Wrap the leftovers into a cling wrap and keep it carefully in a big container, seal everything properly and place it in the refrigerator. 
There is no doubt that a cake tastes best when it is made out of love. However, one thing that is equally important for making a cake is its ingredients. Buying good quality almonds can enhance the flavour ten fold. You know,
PureHeart
is your best place when looking for quality based nuts and dry fruits. You can order the almonds from the best company in India and spread love.