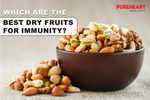 "Healthcare experts suggest consuming dry fruits for immunity enhancement as they are rich sources of essential nutrients our body needs to combat diseases."
There is no denying that good health highly depends on what you consume. A well-balanced diet that includes vegetables and fruits with sufficient nutrients such as vitamins, fiber, carbohydrates, protein, and minerals, ensures strong immunity that keeps the body free from diseases.
Besides fruits and vegetables, dry fruits are edibles that boost immunity. Also known as 'superfoods,' dry fruits are a form of fruits made by drying the water content of fruits.  Dry fruits are essential to Indian kitchens and delectable in taste and nutritional benefits. Doctors and healthcare experts also recommend the best dry fruits for immunity due to their immunity-boosting properties. 
Why is a good immunity system essential for us? 
Nowadays, we are prone to diseases and viruses more than ever. The last couple of years taught us how a robust immunity system is essential for us. The potential danger of diseases surrounds us, and we must protect our bodies and health on our own. Though our bodies have WBCs (White Blood Cells) that fight against bacteria that cause diseases, some diseases cannot be fought against by WBC. 
To prepare our bodies to fight against severe diseases, we need to supplement our bodies with edibles that are a good source of nutrients and fibers. Consuming dry fruits for immunity improvement is a time-tested method that experts also recommend. There is considerable scientific evidence that proves how vital dry fruits are for immunity. 
The best dry fruits for immunity 
Following is the list of dry fruits for immunity you should include in your daily diet. 
Almonds(Badam)
Avoid consuming snacks high in sugar as they cause fatty acids in the body, eat almonds instead. They are a great alternative to snacking items. Almonds are one of the best dry fruits for immunity, with excellent antioxidant properties and zero cholesterol levels. Additionally, there are several health benefits of consuming almonds. 
Almonds help in reducing the risk of heart-related issues. Moreover, regular consumption of almonds relieves constipation, a common health issue of middle-aged people these days. Pollutants and impure air are damaging our respiratory system, and we can avoid this by boosting our immunity system through almonds. Additionally, almonds are not only dry fruits for immunity boosting, but they are good for healthy skin and hair. 
Cashews(Kaju)
Cashew nuts effectively improve our immunity system and are packed with numerous health benefits. They are a rich source of vitamin E and B6; therefore, considered one of the best dry fruits for immunity boosting.  The best thing about cashews is that you can add them to the majority of dishes to add crunch and nutritious value. As they have zero cholesterol, they are good for the heart and improve blood circulation throughout the body. As zinc and copper are present in cashew in high amounts, it considerably improves immunity. 
Raisins(Kishmish)
Raisins are dried grapes, prepared after long dehydration. They are used in various desserts and food items to enrich the taste and add nutritional value. Experts recommend consuming raisins to improve the digestion system and to get rid of overeating habits. Moreover, its anti-infectious properties help us prevent fever and other infectious diseases. Healthcare experts suggest raisins as dry fruits for immunity because they are a good source of vitamin B, iron, carbohydrates, and minerals. 
Walnuts(
Akhrot)
Popularly known as brain dry nuts, Walnuts are considered ideal dry fruits for immunity boosting. They are a great combo of delightfulness and nutritiousness. Walnuts contain many Omega 3 fatty acids, vitamins, proteins, and other vital minerals. These nuts offer many health benefits, and reducing the risk of cancer is a major one.  So, add walnuts to your daily snacking and keep you healthy and away from diseases. 
Pistachios(Pista)
Pistachios are also suggested as the best dry fruits for immunity. They have a high amount of potassium, magnesium, fibers, and vitamin B-6. They have antioxidant properties and help with issues in organs. Apart from that, Pistachios considerably reduce the risk of cancer, improve the eyes' health and protect them from harmful elements in the atmosphere. 
Takeaway 
Considering the recent situations, we all should boost our body's resilience against diseases and health issues. Dry fruits for immunity boosting are easily available, and we can add them to our diets to get the maximum health benefits. Immunity booster dry fruits ensure that you no longer depend on supplements to fulfil your body's need for nutrients. Still, you should make sure you are sourcing premium quality. When getting the finest quality dry fruits is hard, simply visit Pureheart. It is an online store with a vast yet assorted range of delicious premium nuts and nut spreads. Each product at Pureheart contains a richness of energy, nutrition, and vitamins. We source the finest quality nuts and turn them into healthy yet nutritious delights.