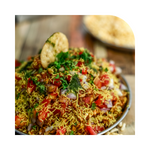 A perfectly balanced tangy-sweet chaat can make your day. Here's an easy-to-make recipe for a delicious bhel with a nutty twist!
Ingredients:
1/4 cup Pureheart Fiery Cashew, Salted Pistachio and Salted Almond Nutreats

1/2 cup roasted makhana or kurmura

Sev and puri as many as you prefer

1/2 cup roasted peanuts

1/2 cup sweet tamarind chutney and mint coriander chutney

1/4 cup boiled and chopped potatoes

1/4 cup chopped onion

1/2 cup pomegranate and chopped coriander leaves

Lemon juice

Chaat masala
Method:
Mix the nuts, makhana and puri in a big bowl

Add the chutneys, potatoes, onions and pomegranate as per taste

Mix well

Top up the bhel with sev, lemon juice & chopped coriander leaves
Gather the kids for an evening of chaat and masti, catch up with your friends over the weekend or surprise your partner with a trip down memory lane and reliving the chaat streets from your childhood!