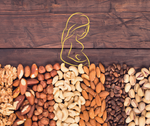 With the festive season comes the tradition of fasting. If you are a mommy-to-be and want to maintain fasting, please check with your doctors about how many hours you can fast and create a meal plan with them! 
We come bearing the gifts of 100% vegetarian, toxin-free nuts! Nuts are the most convenient and filling snacks that one can eat during NavratriEating nuts during early pregnancy can improve a child's neuropsychological development. It has been found that children whose mothers eat an average of 74 grams of nuts per week, during their first trimester, have great IQ, memory, and focus. According to studies, nut consumption during early pregnancy provides long-term benefits for a child's motor and cognitive development.
How do nuts help improve a child's development? They contain folic acid, omega-3 fatty acids, polyunsaturated fatty acids, fibre and more -  all key to the early formation stages of a baby
Nuts, especially almonds and hazelnuts, are rich in folic acids and fatty acids, such as omega-3 and omega-6 fatty acids, which are crucial for neural development. 
Folic acid & omega-3 fatty acids are particularly important during the early phase of pregnancy.  Omega-3 fatty acids are a crucial ingredient for the structural and functional development of the foetal brain, retina, and immune system. 
Almonds are also a great source of polyunsaturated fatty acids. According to scientific evidence, these fatty acids are associated with several physiological functions in a developing child.
Cashew is full of fibre, calcium, zinc, iron, folic acid and magnesium. Cashews are also an excellent source of iron and hence increase the haemoglobin levels of a pregnant woman.
Nuts are full of polyunsaturated fatty acids and other healthy nutrients (fibres, vitamin E, plant sterols, and L-arginine) that help reduce the risk of many diseases, including hypertension, diabetes, and oxidative stress.
So this festive season, gift yourself and all your ladies the goodness of Pureheart Nutreats & Nutmixes - spread the happiness!