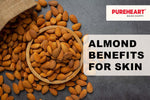 Who doesn't know about almonds? Everyone knows that almonds or badam are rich in healthy fats, full of fibre, and act as great antioxidants. The nutrients that natural almonds contain include vitamin E, omega-3, omega-6, magnesium, and dietary fibre. These nutrients are known to be quite beneficial for skin health, ultimately making them a delicious addition to your daily beauty diet. From improving the production of new cells and antibodies to controlling hair loss, high cholesterol, and heart disease, there are numerous benefits you can reap by adding almonds to your everyday diet.  
Curious to know what skin benefits you can reap by eating almonds? Pureheart is here with a list of almond benefits for the skin. Let's jump into the pool of information below. 
Top benefits of almonds for skin | Let almonds shine your skin 
As you know that almonds are rich in vitamin E, omega-3, and many other nutrients, they can bring plenty of benefits to your skin. Here have a look at the list containing almonds benefits for skin below. 
1. Make your skin beautiful 
Do you want your skin to look beautiful and radiant? If yes, make almonds part of your daily diet. You already know that almonds are rich in vitamin E, which helps in reducing the signs of ageing and ultimately nourishes your skin. Moreover, vitamin E has some antioxidant properties that can easily block free radicals in the body. This plays a crucial role in the ageing process. 
2. Improve dry skin 
Another almond benefit for skin is that they help improve dry skin. Are you worried about your dry skin? Fret not, embrace almonds as they prevent skin dryness. Since almonds are rich in linoleic acid, their ultimate regular consumption can help you with skin dryness and healthy skin shedding and renewal. So, why not add almonds to your health and beauty diet if you want to enhance your skin. 
3. Help in removing dead skin 
Yes, it's true that almonds are also helpful in removing dead skin cells from your face. You can use almonds as an exfoliator that aids skin in getting rid of skin impurities. This way it will remove dead cells from the skin and helps in generating new skin cells that ultimately make your skin beautiful and glowing. No wonder, there are many benefits of eating soaked almonds for skin. 
4. Make your skin smoother 
Another benefit of having almonds is that they make your skin smoother and shiny. You will be amazed to know that the Egyptian Queen, Cleopatra, is said to have almonds included in her diet and skincare regime. No wonder, she was famous for her beautiful skin, hair, and body and the secret of her beauty is almonds. If you eat almonds regularly, they will nourish and soften your skin. 
5. Prevent dark circles 
Are you tired of dark circles on your face? No doubt, dark circles make the skin look dull and shabby. Thanks to almonds, which are rich in Vitamin E, that help you get rid of those ugly dark circles on your face. You also need to know that vitamin E is prominent in fighting UV rays and ultimately lightens the dark patches on the skin. So, make sure to eat soaked almonds daily in the morning to enjoy their effects on the skin. 
6. Good for skin whitening 
You must know that vitamins play a crucial role in keeping your skin bright, smooth, and radiant. Since almonds contain a healthy dose of vitamin A and vitamin E, they're considered to be a very good diet for skin whitening. Moreover, almonds contain a bunch of antioxidants that work effectively. They clean your skin and remove harmful radicals. This way you will get smooth and clear skin. 
7. Acne-free skin 
The regular consumption of almonds makes your skin acne-free. If you have been suffering from acne for a long time, make almonds part of your regular diet. Not only do almonds maintain the softness of your skin, but also give you clear, acne-free, and pimple-free skin. You can also say that almonds act as an anti-ageing beauty secret. This is one of the top almond benefits for skin.
These are some of the most effective almond benefits for skin you just read now. So, what are you waiting for? Just go ahead and buy yourself some almonds from
Pureheart
. We're a prominent Cashew Company bringing an array of
delicious nuts
and dry fruits
. Our products are 100% pure and organic which you can get at a reasonable price.