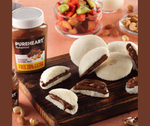 A very simple way to get the kids more interested in their breakfast for the day, with the right mix of flavor and healthiness!
Ingredients
1 Cup Regular Rice

½ Cup of Split Urad Dal (Black gram)

¼ Cup of thick Poha (Flattened Rice)

1/3 tsp Methi Seeds (Fenugreek Seeds)

Water as required

Salt as per taste

Oil for Cooking

Pureheart Choco Mixed Nuts Nutspread 100gms

Fruits as per choice
Preparation
Step 1
Combine the rice, urad dal, Poha and fenugreek seeds in a deep bowl, soak it in enough water for 4 hours
Step 2
Drain the rice, urad dal, Poha, and fenugreek seeds, blend it in a mixer to form a smooth paste using approx. 1 cup of water. Transfer the mixture into a deep bowl and add the salt and mix well.
Step 3
Cover and ferment in a warm place for 8 hours.
Step 4
Grease the idli moulds with oil.
Step 5
Pour the batter in the moulds, steam the idli in a pressure cooker or a steamer.
Step 6
Steam for 10-12 mins or till done.
Step 7
Place the cooked idlis into a plate, spread 15g of Pureheart Choco Mixed Nuts Nutspread over the idli & serve with freshly cut fruits of your choice.