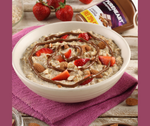 INGREDIENTS for 4 servings / 1 bowl per serving
400 goats

800 ml skimmed milk

Raspberries, for garnish

40 gms roughly chopped hazelnuts

Choco Hazelnut Nutspread 100 gms 

40 gms sugar
Preparation
STEP 1
Put the milk and oats in a saucepan. Cook on medium-high heat until the mixture thickens, then add the sugar and keep stirring.
Let the porridge cool.
STEP 2
Divide the mix into bowls and decorate each with 15 g of Choco Hazelnut Nutspread, the chopped hazelnuts and raspberries (or other fruit if you prefer). Serve at room temperature.