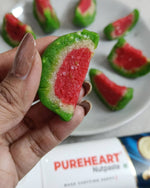 Make Festive Cooking Happy with our Natural Cashew Nutpaste
A 4-ingredient mithai that is delicious, playful and unforgettable! 
Serves:
2-3 people
Ingredients:
Pureheart Natural Cashew Nutpaste - 90 grams

Milk powder

Powdered sugar

Red & Green edible colouring
Instructions
Take 90 grams of Pureheart Natural Cashew Nutpaste in a pan Keep the flame on low and start mixing the paste

After 2-3 minutes add milk powder and mix properly

After about a minute, adds powdered sugar and mix again

Switch off the flame and let it cool

Now divide the mix into 3 portions

Add green and red colour to 2 portions

Flatten the yellow and green portions

Place a layer of the red portion inside a layer of the yellow portion. Let the yellow portion envelop the red one to create a yellow ball

Now place the yellow ball inside a layer of the green portion to create a green ball

Refrigerate for 4 hrs

Once ready, cut the ball into 8 slices and see the magic!
Party game suggestion: Ask your guests to bite into one of your Watermelon Cashew Mithai with their eyes closed and guess what they are tasting! Now that's a party to remember!