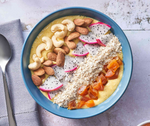 Easy-to-make recipe featuring our Natural Almonds & Natural Cashews.
A medium sized bowl of yoghurt, fruits and nuts - the perfect way to kickstart your day, your week or a weekend. Here is a simple recipe - feel free to mix up the fresh fruits as per your preference!
Ingredients
3 tbsp chopped Pureheart Natural Almonds 

3 tbsp chopped Pureheart Natural Cashews

1 tbsp sunflower seed

1 tbsp pumpkin seed

1 sliced banana

1-2 handfuls of berries (frozen and defrosted is fine)

200g plain yoghurt
Instructions
Mix the chopped Pureheart Natural Almonds and Pureheart Natural Cashews, sunflower seeds and pumpkin seeds. 

Mix the sliced banana and berries. 

Layer up in a bowl with yoghurt and enjoy.
There you go. So bid farewell to flavoured yoghurt and enjoy this bowlful of pure goodness & joy.
Head here to order Pureheart Natural Almonds & Pureheart Natural Cashews - https://tinyurl.com/4cj2jxyw