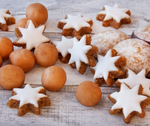 Make Festive Cooking Merry with our Natural Cashew Nutpaste
If we were to ask any children around us or the child within us, what the best part of festive season dessert making was - the unanimous answer would be "taking a nibble while making some of them." Be it the batter, the toppings, the fruits - happiness is munching while making.

A huge favourite during the Christmas season is marzipan - made out of almond or cashew paste. Of course, back when it involved stirring for hours to make it - the kids maintained their distance. Even so, if you helped with stirring sweets as a kid, you'll now have strong arms. Marzipan candies bring with them tiny moulds of colourful shapes – flowers, fruits, stars, angels and more. With this simple recipe, you can leave behind the long prep hours hours and give your family a marzipan delight they will never forget!
Serving: Good for 100-150 marzipans using average-sized moulds

Ingredients:
- 5 packs of Pureheart Natural Cashew Nutpaste
- 3 1/4 kg ground sugar
- 4 egg whites
- 2 to 3 drops of almond essence

Instructions:
- Sprinkle a stainless steel plate (larger than usual dinner plates) with powdered sugar and keep it aside.
- Beat the ground sugar, almond essence and egg whites to a stiff froth
- Add 5 packs of Pureheart Natural Cashew Nutpaste. Put the Cashew Nutpaste & the frothy mixture into a vessel.
- On a low flame, stir till it reaches a wax-like consistency. This stirring still needs to be done!
- Once the mixture is quite dry, pour it into a thali and knead till it's mouldable. Form into 4 or 5 different balls and set aside. You can use natural, edible food colouring if you'd like different coloured sweets.
- Next, sprinkle the moulds with some powdered sugar. Mould the marzipan into tiny balls and place it into moulds till they form the required shapes.
- Turn the mould over and hit it on the back with the wooden spoon so that the shapes pop out. Collect them and place or thalies or trays. Leave out to dry overnight.

And that's it. The marzipan is ready to be sent out to friends and family with love! Order your 5 packs of Natural Cashew Nutpaste - https://tinyurl.com/4w2dsn64