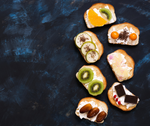 Here are a few recipes for delicious, healthy sandwiches that your kids will love!
1) Almond & Pineapple Sandwich
Ingredients
1 (8 ounce) package softened cheese/ low-fat cream cheese

1/4 cup crushed pineapple
4 tablespoons sliced almonds

8 slices whole-grain bread
Directions
In a small bowl, mix together softened cheese and crushed pineapple. Spread 1/4 of the pineapple and cheese mixture on a slice of bread. Top with a tablespoon of almonds, and cover with another slice of bread to make a sandwich. repeat with remaining ingredients.
2) Pear & Walnut Sandwich
This fruit sandwich is a unique yet delicious flavor combination.
Ingredients
8 slices bread 

1/2 cup (or more) of

homemade labneh

2 ripe pears

1/4 cup chopped walnuts 

1 cup alfalfa sprouts 
Directions
Place the nuts in a small dry skillet over medium heat. Cook the nuts, stirring frequently, until they are golden and fragrant, around 5 minutes.

Core and thinly slice the pears.

Toast the bread slices.

Spread about 1 tablespoon of labneh on each bread slice. Sprinkle the nuts evenly over half of the bread slices. (To amp the salty or sweet flavors, add a pinch of salt or a drizzle of honey.)

Finish each sandwich with pear slices, alfalfa sprouts, and the remaining bread slice. Slice in half and serve.
3) Chicken, Mayo & Cashew Sandwich
Why go for canteen food when you can cook up this yummy snack in a few minutes!
Ingredients
3 cup (480g) cooked chicken, finely chopped

4 green onions (scallions), chopped finely

1/2 cup (60g) roasted cashews, finely chopped

3 (450g) stalks celery, leafy ends cut off, and stalks chopped finely

1/2 cup (150g) mayonnaise

1/3 cup (80g) sour cream

20 slice (900g) white bread

10 slice (450g) wholemeal bread
Directions
Put chicken, onion, cashews, celery, mayonnaise and sour cream into a large bowl, mix the ingredients together with a spoon.

Spread half the chicken mixture over 10 slices of white bread, put a slice of wholemeal bread on top of each. Spread the rest of the chicken mixture over the wholemeal bread, put the other 10 white bread slices on top.

Use a serrated bread knife to cut the crusts off the sandwiches, cut each sandwich into four triangles.
4) Choco Hazel Banana Sandwiches
A healthy, indulgent and super easy-to-make sandwich!
Ingredients
¼ cup PH Choco Hazelnut spread

 4 (1.5 ounce) slices whole-wheat bread, crusts trimmed

 1 medium ripe banana, sliced

 1/8 teaspoon salt

 1.5 tablespoons unsalted butter

 1 tablespoon powdered sugar
Directions
Spread 1 tablespoon Pureheart Choco Hazelnut over each bread slice. Layer banana over the spread on 2 bread slices. Sprinkle with salt. Top with remaining bread slices.

Melt butter in a large skillet over medium heat. Add sandwiches to the pan; cook 1 minute on each side or until golden brown. Remove sandwiches from the pan; cut into triangles or strips. Dust evenly with powdered sugar.