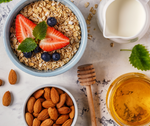 The main objective of eating right is to be HAPPY being healthy. That means we provide our body with the nutrition it needs to function and feel great. Making whole food a part of our day-to-day life is an important practice. 
So, here are some of the most loved food blogs in the world for inspiration! From different cuisines, dietary styles to varying cooking skills and nutrient-rich whole foods add to your life.
RAINBOW PLANT LIFE BY NISHA VORA 
Dietary style: Vegan and mostly gluten-free
Nisha Vora is a professional vegan chef who creates a riot of flavorful vegan comfort food. Her recipe blog always highlights how beneficial, non-restrictive, and delightful a vegan diet can be! 
Where to find her recipes: Instagram | Youtube
VEGGIEKINS BY REMY PARK
Dietary style: Vegan, gluten-free, refined sugar-free
The Veggiekins blog is a great place to look for Asian-inspired vegan and gluten-free recipes. Remy has gluten-free options that make for the perfect weekday meals.
Where to find her recipes:  Instagram | Youtube
PICK UP LIMES BY SADIA BADIEI
Dietary style: Vegan, with plenty of allergen-free options
Sadia Badiei's philosophy around food is to "nourish the cells and the soul." She has super helpful Youtube videos sharing tips for vegan meal prep and recipes that are all affordable and easy to make! 
Where to find her recipes: Instagram | Youtube