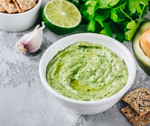 MAKES 1¾ CUPS

PREP TIME: 10 minutes

ACTIVE TIME: 10 minutes
INGREDIENTS:
1 cup raw natural almonds, soaked in warm water for at least 1 hour and drained, water reserved

1 cup of the soaking water once done soaking

1 cup roughly chopped fresh coriander leaves

¼ cup diced green chillies

¼ cup lime juice

2 tablespoons of Tamari sauce for gluten-free, or soy sauce 

2 tablespoons chopped onion

4 teaspoons nutritional yeast

2 teaspoons chopped garlic

1 teaspoon ground cumin

Salt and black pepper to taste
INSTRUCTIONS:
Combine all of the ingredients in a blender at high speed until smooth and creamy. Transfer to an airtight container and refrigerate for 1 hour prior to serving. The dip should thicken as it chills - lasts at least 3 days if kept in an airtight container.