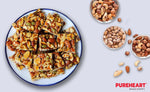 Dry Fruits Chikki or Mixed Nuts Dry fruit chikki is a chikki recipe with nutritious seeds, and jaggery abounds in the delicious dessert. It's basically a different kind of peanut chikki. It's a great way to produce a healthy, organic energy bar.
Chikki is a popular dish in Indian households and is among the favourite desserts, especially during the winter months and festivals such as Lohri and Makar Sankranti.
You'll want to continue eating on the dry fruit chikki made by this chikki recipe which is somewhat similar to the peanut chikki recipe because of its rich depth of flavour. It fulfills your sweet craving while also keeping your body warm during the winter months, and it's a great substitute for chocolates and candy.
What Is Chikki?
Chikki is a classic Indian treat or crunch made with jaggery/sugar and peanuts. Sesame seeds, chocolate, melon seeds, chia seeds, and various dry fruits are some of the modern varieties.
Dry Fruit Chikki is an Indian delicacy made with mixed nuts and flavoured with some saffron and/or cardamom dust that is crispy, tasty, and healthful. The mixed nuts crunch can be eaten as a mid-day treat or as a dessert.
Best Homemade Dry Fruit Chikki Recipe
To make the perfect chikki or crunch, you must first get the jaggery liquid to a hardball texture similarly in the peanut chikki recipe. This post contains a step-by-step guide to preparing the perfect chikki. Making this chikki using this chikki recipe is a delight.
Prep Time - 10 mins | Cook Time - 20 mins | Total Time - 30 mins | Servings - 22 pieces
Ingredients For Chikki Recipe:
Almonds

/badam, halves - ¾ cup (100 grams)

Chopped

Cashew

/ Kaju - ¾ cup (100 grams) 

Pistachios - 2 tbsp (25 grams) 

Melon seeds - 2 tbsp (25 grams) 

Ghee / clarified butter - 1 tsp 

Jaggery / gud - 1 cup (200 grams)

Water - ¼ cup

Cardamom powder - ¼ tsp 
Instructions For Chikki Recipe
To begin, combine 34 cup almonds, 34 cup cashews, 2 tablespoons pistachio, and 2 tablespoons melon seeds in a skillet.

Dry roast the nuts for about 10 minutes over low heat, just until the nuts become crispy. Set aside for now.

Pour 1 tsp ghee, 1 cup jaggery, and 14 cup water in a big kadhai

Stir well till jaggery is dissolved completely.

Cook for 6-7 minutes, just until the liquid froths up.

Now test the texture by putting a spoonful of liquid into a cup of water; it must make a hardball and break when cut. Otherwise, simmer for a further minute and then check.

Reduce the heat to low and add the toasted nuts and 14 teaspoon cardamom powder.

Mix thoroughly, assuring the jaggery syrup is evenly distributed.

Slowly pour the mix upon an oiled butter paper or a ghee-greased steel plate right away. If you don't move quickly, the mixture will harden and become hard to set.

Top with the second sheet of oiled butter paper and flatten out with a rolling pin.

Roll for a consistent thickening.

Let it cool for a few minutes before cutting into squares while still warm.

Lastly, once the dry fruit chikki has cooled fully, serve immediately, or preserve it in a sealed container for up to a month.
Important Notes For Chikki Recipe:
The peanut chikki recipe is also similar to this. Also, almonds, cashews, or other chikki can be prepared in the same chikki recipe.

It can also be flavoured with roasted flax seeds.

As the jaggery begins to melt, you must constantly stir and act quickly. Once the jaggery has caramelized, add the nuts, stir fast, pour rapidly, and mark fast. Otherwise, the jaggery will settle and solidify into a lump.

Rather than jaggery, sugar can be used.

Adding ghee to the syrup provides the chikki with a lovely gloss.

No further water should be added to the syrup.
This chikki recipe is nothing without quality and organic dry fruits.
Pureheart
is your one-stop shop to get nuts such as almonds and cashews for all your dry fruit and peanut chikki recipes.