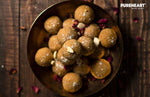 The sweet dessert known as 'laddo' is popular in Indian homes and is created especially for festivals or religious celebrations. It's commonly made using besan flour, sugar, and ghee. This popular Indian sweet comes in different varieties, and its name changes by locale. Each household, area, neighbourhood, and so on has its unique recipe for how to make besan laddo, which is based primarily on locally accessible or customary components.
What Is Besan?
Before learning how to make besan laddo, let us first learn what Besan is!
Bengal gram flour, often known as 'Besan,' is a delicate, light yellowish flour with a somewhat sweet, salty, and granular flavour. All of the acidity goes away when you cook/roast it, and the consistency changes dramatically.
Besan is a nutrient-dense, gluten-free grain. It contains a lot of proteins, fibre, and elements like iron, magnesium, and calcium.
What Is A Besan Laddo?
Traditional and authentic North Indian sweet sphere balls prepared of gram flour, ghee, sugar, and cardamom seeds are known as besan laddo. Besan is the Hindi name for gram flour, and laddo is an Indian sweet treat in the form of balls.
Slowly toasting gram flour in ghee till fragrant and golden in colour is the essence of how to make besan laddo. After cooling, the nuts mix is combined with crushed cardamom seeds and sugar. Cashews, pistachio, and melon seeds are pressed in the palm to form a delicious Besan laddo.
How To Make Besan Laddo? - Recipe
This is a recipe for how to make besan laddo, a favourite. It's always a highlight of the festive celebration.
Preparation Time - 5 mins
Cook Time - 45 mins
Making Time - 30 mins
Total Time - 1 hrs 20 mins
Ingredients For Besan Laddo-
Besan/Gram flour - 2 cups

Ghee - ½ cup 

Powdered Sugar - 1 cup

Cardamom powder - 1 tsp

Raisins,

almond

or cashews - ½ bowl
Instructions For Besan Laddo:
A) Besan Roasting Process:
In a blender, coarsely grind the sugar and set it aside.

In a kadhai, melt the ghee and then add your besan, keeping the flame moderate.

Stir the besan and ghee thoroughly; if the mix appears dry, add a few teaspoons of ghee.

Mix the contents thoroughly to ensure that the besan is thoroughly combined with the ghee.

To prevent overheating the besan at the bottom, maintain medium heat and stir often when roasting the besan.

The shade of the besan will start to change in about 15 to 20 minutes, and the ghee is well combined with the besan. Stirring constantly is essential so that the besan roasts consistently brown in colour.

Lower the heat and roast the besan till it becomes a beautiful light brown colour and emits a fragrant roasting aroma.

Take off the heat and set it aside to cool.

The roasted Besan is now ready to use in preparing laddo.
B) How To Make Besan Laddo Process:
In a large platter, place the roasted besan. In a small bowl, combine the powdered sugar and cardamom powder.

To avoid lumps, thoroughly combine the sugar and besan. Your laddo mixture should appear sticky and soft now.

If the mix appears dry and difficult to mould into a circular laddo, add one or two teaspoons of ghee and stir thoroughly.

Take a tiny amount of the mix in your hand and roll it into balls. Put dry fruit such as cashews and almond bits on it for garnish and lightly press them in before rolling the ball over. In an oiled dish, place the besan laddo.
Serve the delicious besan laddos and gather praise from everyone!
If you are looking for nuts to enjoy this recipe of "how to make besan laddo," visit
Pureheart
and get the best and organic nuts for all your recipes. We are a leading manufacturer and exporter of nuts like cashews and almonds.