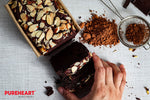 We're going into the summer months, and there are lots of wonderful, juicy, and ripe plums to be found at this season of the year. Plums are among the most versatile tropical fruits in the kitchen.
This almond plum cake recipe is simple to make and pairs well with a hot cup of coffee. Delicious and sweet plums are strewn throughout this delicate, spongy, and fluffy cake, which is garnished with aromatic and crispy roasted almonds in this rich plum cake recipe.
Plums become mushy and malty after baking, providing a tone of richness to this wonderful late-summer dessert. This simple plum cake recipe has a dense consistency with more bite since some of the dough is substituted with almond flour. The powdered almonds in the cake batter give it a wonderful consistency and keep it moist. It's a fantastic and simple plum cake recipe that's also great for dessert!
Delicious Almond Plum Cake Recipe
While this delectable flavorful almond and plum cake seems and tastes sophisticated, the rich plum cake recipe for creating it is quite simple. This stunning and rich plum cake recipe takes approximately 15 minutes, making it the ideal dish for times you want anything sweet with no need for a lot of hassle.
Prep Time - 20 mins | Cooking Time - 1 hr. 10 mins | Servings - 8 people
Ingredients For Almond plum cake recipe
Dry ingredients - 
Granulated Sugar 

Brown Sugar

Almonds Flour

All-purpose flour

Baking Powder

Cinnamon, Cardamom, & Nutmeg
Wet ingredients - 
Unsalted butter

Eggs

Vanilla extract
Toppings -
Fresh Plums

Turbinado Sugar

Sliced Almonds

Honey

Powdered Sugar
Instructions for Almond Plum Cake Recipe
1- Preheating & Preparation
Preheat the oven to 350 degrees Fahrenheit for this simple plum cake recipe. Using wax paper, oil and line the bottom of a 9-inch square cake pan. Quick Tip: If your wax paper starts to roll up when you're working, compress it into a bundle and then straighten it out again!
2- Blending the Dry Ingredients
In a mixing bowl, mix together all the dry ingredients, including the powdered almonds, all-purpose flour, powdered sugar, brown sugar, baking powder, cinnamon, powdered cardamom, nutmeg, and salt.
3- Wet Ingredients
Mix together all the eggs, butter, and vanilla essence in a smaller sized dish, then mix the wet ingredients with the dry ingredients till thoroughly blended.
4- Adding Plums to the Mix
Pour the batter into the buttered cake pan and flatten the top with a spoon or an inverted spatula. Then carefully push the plum pieces into the cake mix. Lastly, dust with turbinado sugar.
5- Prepare the cake
Bake for about 45-50 minutes, till a toothpick inserted in the middle of the cake pulls out clean.
6- Garnishing and cooling
Take the cake out from the oven and let it cool for about 20 minutes before taking it out from the pan and putting it on a wire rack to cool at room temperature.
Substitutions Of Almond Plum Cake Recipe:
Turn this simple plum cake recipe gluten-free.
You can use powdered almonds, which are gluten-free by nature. Use gluten-free flour to turn this recipe totally gluten-free.  This recipe with gluten-free self-rising flour will turn out just as well. Almond flour might be used in place of all-purpose flour.
Create a vegan plum cake recipe.
You can try making a vegan version of this dish. Substitute a 
vegan option for the butter. Apple syrup or vegan egg replacements can be used in place of eggs. 
Rather than plums, try apricots.
While this is a simple plum cake recipe, one can use other stone fruits. Apricots, peaches, nectarines or cherries are a great choice.
This is a delicious and rich plum cake recipe with almonds. Get organic and natural almonds at
Pureheart
. We are India's leading manufacturing and exporting company for cashews, almonds and other nuts. We offer organic and best-quality nuts for all your recipes and needs.