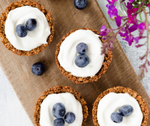 Make Festive Cooking Merry with our Natural Cashew Nutpaste!
As the end of the year gets closer, we know you want to relax, unwind and celebrate! To this, we say, may the merry take over! This is a simple recipe with scope for more colours, different fillings, different toppings - let your creativity run wild! 
Ingredients:
Canapés

Whipping cream

Icing sugar

Pureheart Natural Cashew Nutpaste

Edible colours

Sprinkles
Instructions:
Use canapé shells available in the market.

Whip the cream with Pureheart Natural Cashew Nutpaste and icing sugar and pour the mix into a piping bag

Add different edible colours to make it colourful.

Using the piping bag mix, fill the canapé shells and add the sprinkles on top

It's ready to party!
This quick and simple canapé recipe is a guaranteed hit with the kids and the adults who will become kids around it! Are you ready to get merry?
Get your Natural Cashew Nutpaste here -
https://tinyurl.com/yktwspu3