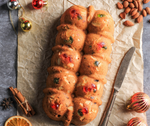 Make Festive Cooking Merry with our flavoursome Fruit & Nut Nutmix
That waft of freshly baked cake everywhere you go is one of the best parts of the festive season. When does it begin at your house? The Fruit & Nut Cake is an evergreen classic - so here's our version with our delicious nutmix - Fruit & Nut. 

Ingredients
Pureheart Fruit & Nut Nutmix - 1 can is 230 grams of Nutmix. Use as per your preference

1.5 cups of flour

¼ cup of vanilla custard powder

1.5 tsp of baking powder

1 tsp of baking soda

½ a cup of oil

1 cup of yoghurt

¾ to 1 cup of sugar

¼ a cup of Lemon juice or 1/2 a cup of Orange Juice

Water as needed to adjust the consistency. Takes about 1/2 cup or less
Instructions
Sift together the flour, vanilla custard powder and baking powder & soda.

Swiftly beat oil, sugar, yoghurt and mix well till the sugar dissolves - this is our wet mix!

Add the sifted flour mix to the wet mix and combine well.

Now, add lemon/orange juice

Add water as needed to adjust the cake batter. Since we aren't using eggs, the cake batter should be slightly thicker than that of regular cake

Finally, empty Pureheart Fruit & Nut Nutmix into the batter. Mix lightly.

Pour this into a greased baking dish.

Bake at 350F in preheated oven for 45 to 60 minutes. Use the tried and tested cake check hack -  bake till a toothpick or knife inserted comes out clean.

Let cool in pan for about 10 minutes.

Remove the cake from the pan and bring it onto a cooling rack. 

Your vegetarian Fruit & Nut Cake is ready! 
Every family has their own tradition, own version of Fruit & Nut Cake recipes - will you let us in on your family version? All this talk about cake, we're going to go treat ourselves now!
Get your Fruit & Nut Nutmix here -
https://tinyurl.com/juxj2yp8