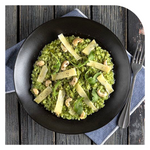 Recipe #3! A scrumptious combination of pesto, spinach and cashew for a creamy risotto - an Italian restaurant-style healthy meal you can make at home!
Ingredients:
1 cup risotto rice boiled

2 tbsp parboiled broccoli florets

2 tbsp parboiled carrots cut into big size

2 tbsp parboiled baby corn cut into big size

2 tbsp boiled sweet corn

1/2 cup milk

1/ 2 cup spinach puree

1 tbsp garlic chopped

1/4 cup olive oil

Salt & pepper to taste

Chilly flakes & mix herbs to taste
Method:
Heat half of the olive oil in a broad pan

Add half quantity garlic - saute for 2 mins

Add all veggies add little salt and pepper

Remove in a plate

In the same pan, add the remaining olive oil

Add the remaining garlic and spinach. Puree well.
Add Pureheart Natural Cashew Nutpaste & 1/2 cup milk - mix well so it is saucy

Add Risotto rice

Add salt, pepper, chilly flakes and herbs

Keep it aside

Serve hot with a side of sautéed veggies
Bookmark this recipe for a surprise anniversary dinner - maybe email it to your partner as a hint :) 
#HappyNUTrition