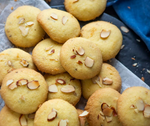 Make Festive Cooking Merry with our roasted Natural Almonds
It is almost impossible to choose a favourite festive season biscuit or cookie. Melt-in-the-mouth Butter biscuits, Jam biscuits, Jeera biscuits, Khara biscuits, Ragi biscuits...how can you pick just one! This year, add homemade Almond/Badam Biscuits to your feast, using the warm roasted flavours of our Natural Almonds Nutreat. 
Ingredients
1/2 cup coarsely powdered Pureheart Natural Almonds (badam)

1/4 cup slivers of Pureheart Natural Almond (badam) 

1 1/2 cups plain flour (maida)

5 tbsp soft butter

1/2 cup powdered sugar

1/4 tsp vanilla essence

1/4 cup milk
Instructions
Combine the plain flour, powdered Pureheart Natural Almonds and slivers of Pureheart Natural Almonds in a deep bowl and mix well. Keep aside.

Cream the butter, powdered sugar and vanilla essence in a deep bowl and mix well using a spatula.

Add the plain flour-almonds mixture and mix well using a spatula.

Add the milk gradually and knead gently into a semi-stiff dough without using any water.

Cover the dough with a lid and keep it aside to refrigerate for 15 minutes.

Roll the dough into a 200 mm. X 200 mm. (8" x 8") rectangle.

Cut the rolled dough into 50 mm. X 50 mm. (2" x 2") equal square pieces.

Arrange the square pieces on a baking tray at equal intervals and bake in a preheated oven at 180°c (360°f) for 25 minutes.

Allow it to cool completely.

Homemade melt-in-your-mouth Almond Biscuits are ready!
Some tips to keep in mind:
The plain flour has to be free of lumps. Sieve it if necessary. 

The butter has to be soft, so remember to remove it from the refrigerator at least half an hour in advance. Soft butter is necessary so it mixes well with the sugar. 

If you don't have powdered sugar, grind table sugar in a mixer and sieve it before use. 

Do not forget to refrigerate the dough. It helps make the dough stiff, which helps in easy rolling. 

Use a thick rolling pin if you can so there is uniform pressure and texture. 

Cooling the biscuits is necessary before serving to let them get their melt in mouth texture and before storing to prevent them from turning soggy.
We hope you try this recipe! These biscuits with buttery-smooth texture and crunchy almonds in every bite will be a hit with everyone. 
Order our premium quality Natural Almonds Nutreat here -
https://tinyurl.com/3rjf9uj6