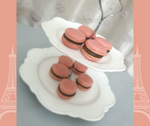 Bring home a little bit of Paris' famous macarons - you can make these delicious and light confections at home!
Ingredients
Granulated sugar - 1/4th cup
Pureheart Choco Almond Nutspread
Preparation
Sift the almond flour and icing sugar to remove any lumps
Mix it together and keep aside

 
Beat the egg white and when it becomes frothy add the granulated sugar little by little
Beat the mixture till soft peak is formed
Add any gel colour of your choice and mix well
Fold in the flour sugar mixture and fold in slowly within 30 to 40 strokes till its consistency makes it drop down from a spatula
Transfer into a piping bag
Place a baking sheet on an oven tray pipe small amounts on to it

 
If you want similar rounds draw the circles and pipe out
Then tap the tray on the surface to let out all the air bubbles from the mixture
Let it rest for 30 minutes till the surface becomes dry and it does not stick to the finger
Bake at 150 C for 12 to 13 minutes. Let it cool. Take out the biscuits and pipe in the Pureheart Choco Almond Nutspread on one side and close with another biscuit. 
The same recipe can be used with cashew powder instead of almond as well
Now relish the yummy mix of our Choco Almond Nutspread and light, fluffy biscuits.